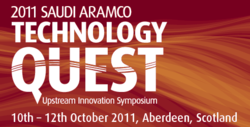 Scientists and researchers: get your invitation to innovate with Saudi Aramco.
(PRWEB UK) 5 September 2011
Saudi Aramco today announces that the company will be holding its first European Technology Quest in Aberdeen, Scotland on October 10-12, 2011. The invitation-only event brings together the world's top scientists and researchers to discuss opportunities to collaborate with Saudi Aramco in the development of breakthrough upstream technologies.
The three-day symposium will focus on several research domains, including computational modelling, geophysics, geology, production, drilling and reservoir engineering. Saudi Aramco is looking to collaborate during the conceptual/ research stages of technology development that address specific upstream technology challenges within these fields.
At the symposium, researchers and scientists working in conceptual and research stages of development will have the opportunity to present their proposals to representatives from Saudi Aramco's Upstream Advanced Research Center in the Exploration and Petroleum Engineering Center (EXPEC ARC).
"The focus of Technology Quest is to develop new, high impact, upstream technologies in order for Saudi Aramco to help meet the world's future energy demand. We believe forming partnerships is critical in achieving this goal. This year we are building on our success of the previous two Technology Quest events and seeking collaboration with technology providers in Europe," said EXPEC ARC's Manager Samer AlAshgar.
"Technology Quest is a great opportunity for scientists and researchers to share their ideas and collaborate with our enterprise," he added.
Those interested in receiving an invitation to the Technology Quest symposium, please visit http://www.techquest2011.com for details on submitting a proposal.
This year's event is the Company's third Technology Quest, with the previous two being hosted in Houston by Aramco Services Company.
For additional information, please visit http://www.technologyquest2011.com.
Owned by the Saudi Arabian Government, Saudi Aramco is a fully-integrated, global petroleum enterprise. The Company manages proven conventional reserves of 260.1 billion barrels of oil and the fourth-largest gas reserves in the world, 275.2 trillion cubic feet.
For more information, go to http://www.saudiaramco.com.
# # #