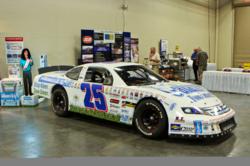 The branding and promotional reach of the KleenGrip program is untouched in the industry.
Loris, SC (PRWEB) September 07, 2011
KleenGrip is launching their new Steri-Strip™ Shopping Cart Handle Protectors, which are designed to provide a germ barrier for Shopper protection combined with the added bonus of Discount Coupons for in-store products, at the Hills Galaxy Food Store located at 4227 Broad St, Loris, SC on September 10. The promotion will run for four consecutive weeks and KleenGrip will be exhibiting their ever popular World of Outlaws Sprint Car Series and NASCAR ARCA Series Race Cars on weekends during the promotion.
The KleenGrip Steri-Strip™ Coupon program incorporates a centralized Coupon Center kiosk which is located at the Store's entry right next to the shopping carts so all the Shopper does is walk in, pull the strip out, place it on the cart handle and then shop! No more forgetting to use their coupons because the coupons are in the Shoppers hands the entire time they shop. When they get to checkout, they just peel off the coupon (or coupons) that they want to use and the cashier scans it just like any other coupon. Simple as that! Each strip has 11-13 (depending on the shopping cart handle width) different coupons and provides a sanitary germ barrier between the Shopper and the cart handle.
KleenGrip has also developed a Virtual Greeter concept to increase in-store awareness of the program. KleenGrip's Virtual Greeter has a holographic image projected onto a life-sized cutout and is so unique and life-like, Shoppers can't help but stop and stare. The Virtual Greeter delivers a visual and audible customized message that drives home can't miss branding impressions for the Retailer and Product Manufacturers in a format that will have Shoppers talking at the water cooler for days!
For more information on becoming a participating Retailer, or for CPG's interested in being featured on the Steri-Strip™ Coupons, contact KleenGrip and Bill Barrett at 888-965-5336, or visit http://www.kleengrip.com.
# # #