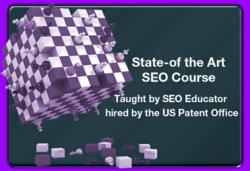 "The contrast of this linguistics-savvy approach to other SEO advice is very clear."
-- Amy Munice, President of ALM Communications Inc. and founder of Global B2B Communications
Research Triangle Park, North Carolina (PRWEB) September 02, 2011
Web competitive analysis is the focus of two upcoming master classes in search engine optimization (SEO) announced by Global B2B Communications, to be held on September 14 – 16 and September 28- 30, 2011 in Research Triangle Park (Raleigh), North Carolina, USA. These classes are geared for all companies selling products or services online (owners; C-level managers; marketing, communications, and advertising managers; bloggers; as well as independent web design and SEO professionals). The instructor for both courses is the web expert whom the US Patent Office hires to keep its patent officers up-to-date on how search engines work. Attendees of the course will gain insights on best practices for an organized approach to web pages' optimization and the mathematical tools needed to point website optimization efforts in the most efficient directions.
For more details on "Advanced SEO Analytics Course: Web Competitive Analysis" or to register please visit http://www.globalb2bcommunications.com/web-marketing-courses/advanced-seo-competitive-web-analysis/.
Amy Munice, founder of Global B2B Communications, comments, "I strongly recommend this class to anyone whose job has anything to do with understanding how search engines work and how to compete successfully on the web. The two years I spent scouring the globe to find this course instructor, Mike Marshall, turned out to be time well spent. The contrast of Mike Marshall's linguistics-savvy approach to other SEO advice that essentially distilled into unworkable tips on reverse engineering search engines was and is very clear. He not only explains why web competitive analysis is the ONLY way to gain competitive advantages in rankings but also shows you how to use findings from web competitive analysis tools to make sure your pages are optimized. You walk away from this class with the ability and knowledge of mathematically-based tools that will allow you a systematic step-by-step approach to overtake all rivals in the unique competitive landscape that your company operates in on the web."
About Global B2B Communications
Global B2B Communications is both an online information source on up-to-date information on how world search engines work and a compendium of internet marketing tools and services in synch with today's search algorithms, as well as directories for marketing online and off-line, such as a global directory of editor-recommended translators. Amy Munice, President of ALM Communications (now also doing business as Global B2B Communications can be reached at info (at) globalb2bcommunications.com or +872-222-7361 or +773-862-6800, or Twitter—WorldB2B.
# # #