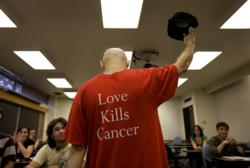 The film uses anything but the typical melancholy, clichéd approach toward cancer stories. Not As I Pictured is upbeat and life affirming.
Gainesville, FL (PRWEB) September 06, 2011
Diagnosed at age 48 with a potentially deadly form of lymphoma, Pulitzer Prize-winning photojournalist John Kaplan turned the lens on himself and chronicled his experience in a moving visual journal. Kaplan's new film, Not As I Pictured, is now showing on PBS stations nationwide.
Kaplan, one of America's best-known photojournalists, husband and father of two young children, says, "The film uses anything but the typical melancholy, clichéd approach toward cancer stories. Not As I Pictured is upbeat and life affirming." The University of Florida journalism professor and Fulbright scholar has been awarded the Overseas Press Club Award and National Newspaper Photographer of the Year, as well as the Pulitzer.
Moved by the film's content, leading musicians donated music for the Not As I Pictured soundtrack, including Michael Stipe (R.E.M.), Chris Martin (Coldplay), David Bowie, will.i.am (Black Eyed Peas), Justin Timberlake, Pantera and Cowboy Junkies. Their contributions helped the film win Best Soundtrack at the 2010 Maverick Movie Awards, and the ADDY Best of Show for Public Service.
Not As I Pictured has captured the attention of the film industry, with more than 20 honors including two prestigious CINE Golden Eagle Awards and several Best Documentary film festival accolades. Underwriters include the American Cancer Society and the Enlight Foundation.
Kaplan is giving away 10,000 DVD copies to anyone affected by cancer. Viewers can order free copies for personal use at: http://www.NotAsIPictured.org. The film is already having a tremendous impact in cancer education. A cancer coping kit produced in collaboration with the American Society of Clinical Oncology (ASCO) accompanies the DVD, with coping and lifestyle tips for patients, caregivers and survivors.
With help from his family, doctors, and even Mother Teresa and a rock star, Kaplan shares the same boundless determination and powerful storytelling ability that helped him become a famous photographer. The film ends with the news of Kaplan's complete remission and return to good health.
As current cancer patient, and former National Geographic director of photography, Kent Kobersteen says, "The service John Kaplan is doing is incredibly profound, and the extremely personal nature of the piece makes it even stronger. The film should be seen by every cancer patient and caregiver."
One in three American women will get cancer. For men, it's one in two. Cancer touches nearly every family in the nation. According to the Centers for Disease Control & Prevention, 11.7 million Americans are now cancer survivors – more than ever before. Many cancers today, however, are beginning to be looked at as chronic illnesses.
"During my treatment, we received so much unexpected help along the way, often from strangers," he says. "In sharing our family's story, I'm determined to give some of that kindness back."
The profound impact of Kaplan's film is evidenced by posts on the Not As I Pictured Facebook page. Kathy, whose husband is in treatment, shares, "I was greatly moved. It would have touched me before, but now that we are dealing with a diagnosis of aggressive illness in my husband, it means far more. I am in awe of your film."
These days Kaplan is on the road, sharing his motivational story at oncology conferences, hospitals, and support centers nationwide. Cancer centers and medical practices are using the film and its accompanying cancer coping guide for newly diagnosed patients, caregivers, survivorship programs, and support groups. A touring photographic exhibition is available to accompany his presentations at community events, medical conferences, and patient summits.
Visit http://www.NotAsIPictured.org to view the film trailer, order a free copy for personal use, download a media kit, or inquire about John's availability to speak in your community. The website also features extensive cancer coping resource links. Although the film is free for personal use, organizations and libraries pay license fees that help support the program's long-term humanitarian goals. Not As I Pictured has 501(c)(3) charity status and welcomes donations.
To see the film's PBS programming schedule, please visit http://www.NotAsIPictured.org/PBS.
A downloadable media kit with photos, news hooks, quotes from Kaplan, patients, caregivers and physicians, is available here: http://www.notasipictured.org/press.
To join the conversation about the film, please visit http://www.facebook.com/NotAsIPictured.
###