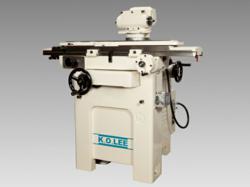 The table can be regulated from very-fine to a rapid-feed range and has a Fingertip controlled feeding mechanism.
Amelia, OH (PRWEB) September 04, 2011
LeBlond Ltd., a supplier of OEM service parts and LeBlond lathes, acquired K.O. Lee in 2008 and has developed a new Universal Tool and Cutter Grinder called the KOL40M. The machine is most often used to re-sharpen different types of cutting tools in the shop. It is part of the great tradition that K.O. Lee has been known for since 1897.
The KOL40M wheelhead can be easily tilted up to 15 degrees and can be swiveled 360 degrees on the horizontal plane. These features make it simple to set rake and relief angles.
The spindle assembly is designed to support the shaft using two pairs of angular ball bearings (one pair at each end of the spindle support) and there is a centralized system for lubrication on the grinder and on the spindle. An operator can adjust the workhead and accurately position the spindle at any horizontal or vertical angle.
The table ways are hardened, ground and can swivel up to 120 degrees. It can be regulated from very-fine to a rapid-feed range and has a Fingertip controlled feeding mechanism. The spring cushioned table dogs are used for positioning the table and absorbing traverse shock.
The grinder has a work surface of 5-5/16" X 37" with the distance between tailstock and workhead of 22-3/4". Swing over table is 10". Right and left tailstocks can be positioned anywhere on the table and the right tailstock has a retractable center for easy mounting (or dismounting) the work piece. The KOL40M grinder includes over thirty standard accessories and an oversized tool cabinet.
For additional information call LeBlond at (888) 532-5663 or visit our website at leblondusa.com.
Company Information
LeBlond is the only company in the world with OEM replacement parts for LeBlond and Standard Modern lathes, KO Lee grinders, Johnson Presses and Deka Drills. LeBlond sells new machines, rebuilds equipment and offers "world class" accessories/tooling items. Whether your manufacturing needs require genuine LeBlond parts or quality industrial products, you can "one stop" shop at LeBlond.
###