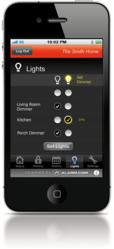 Vienna, VA (PRWEB) September 14, 2011
For homeowners, staying in shape and protecting their homes are tasks that can easily be intertwined into their daily lives. Security system users can complement an active lifestyle with well-suited interactive security routines that enable them to stay on-the-move.
When considering an interactive home alarm system, it's best to look for a solution that is both capable and strong, while also flexible and congruous to a home and family's needs. Once an intelligent, interactive security system is selected to outfit a home, in order to stay active with the system and keep a property safe and secure, Alarm.com encourages security system users to follow this checklist of ten home security monitoring tips:
1. Develop good habits – Start off the day right by eating a nutritious breakfast and also by checking in with the home security system. Take a look through the system event history to see if any unusual events took place while you were sleeping. Also utilize additional features such as receiving local weather forecasts to help get ready for the day, and don't forget to arm the system before heading out—or if you do forget, simply arm it from your smartphone on the way to work.
2. Track progress – It's painless to interact with a wireless home security system. Enjoy seeing the benefits of increased property protection right from a computer or cell phone. Check on activity at home and control the thermostat settings from the Web. Free home security mobile apps also make achieving security goals and tracking the home's activity status even easier.
3. Personalize routines – Wondering whether it's time to up the temp or cool things down? Not only can users check in on home activities remotely at times that work for them (like a lunch break), but they can also manage energy usage by adjusting thermostats and even lights at home on the go with an integrated energy management solution.
4. Go all out – Whatever security strategy you choose, kick techniques up a notch to protect a home to the fullest with varied and dynamic security solutions. Want to really be in charge of who's coming and going at a property? Exercise smarter protection by managing unique, individual lock access codes with a home automation product offering.
5. Be focused – Show effective security form by utilizing home security cameras placed in important areas like hallways and regularly trafficked rooms. Take a look at the action and even control pan/tilt cameras from a cell phone when away from a property. Or set up motion-triggered video clips to be sent via email or text message for increased awareness.
6. Have a support team – Family members can serve as an energetic source of assistance. Using a security system on a daily basis is a simple habit to adopt for any family, facilitated by user-friendly web interfaces and free security mobile apps. Remind the family to stay on top of their security game by conditioning them on how to arm and disarm the security system and also how to use its interactive features using the Internet or a smartphone.
7. Find balance – While it is helpful to diligently review home activity and manage security settings, those looking for a breather can set up schedules to automate the home and save some effort, and also energy. Have the lights turn on a few minutes before the family typically returns home at night or set the thermostat to cool down after the family leaves in the morning.
8. Stay motivated – Once security is made a priority, add a boost with convenient alerts and reminders from the home security system. Find out when the kids got home from school with a timely text message. Or be notified when the cleaning crew arrives via email. Alerts can also be set up to be sent if the power goes out or if motion sensors are triggered.
9. Switch it up – Speaking of motion sensors, how about trying something new? Maybe the whole family is becoming more active; instead of lying around the living room, they're working out in the basement, cooking healthy foods in the kitchen or doing yoga upstairs. Make sure motion is captured in areas of concern by investing in additional sensors to cover key locations in the home.
10. Get results – The true reward for a commitment to better security? Better protection. It's as simple as that.
Active security system users should be enthusiastic about their interactive security system conveniently fitting into their day-to-day lives. They can pat themselves on the back for a quick turnaround of their accomplishments because it's easy to log into an online security account every day and see what's happening at home for even the busiest of people. Today is the day to adopt a more robust security lifestyle – there's always room for improvement, but there's no excuse for an unprotected home.
About Alarm.com
Alarm.com, founded in 2000, is the industry leading technology provider of interactive security solutions. Through advanced wireless monitoring, mobile and web-based services, and a proven hosted services platform, Alarm.com helps protect hundreds of thousands of residential and commercial customers throughout the United States and Canada. Alarm.com's products and services are offered exclusively through a network of over 2,500 licensed and authorized Security Dealers. Alarm.com's headquarters is located in Vienna, VA. For more information, visit http://www.alarm.com.
###