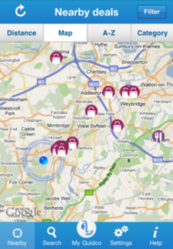 The Quidco app gives them the opportunity to earn money back by paying cash just for checking in to certain stores and restaurants...
London, UK (PRWEB UK) 6 September 2011
Quidco, the UK's leading cashback and voucher code site, today launches an app for Android phones which rewards users with cash just for checking in to certain high street stores and restaurants. With 5 million Brits reportedly in possession of an Android phone*, this app would allow them all to take advantage of the cash for check in function.
The UK's first check in for cash tool, the Quidco Mobile app, provides the user with all of the money saving offers available nearby including vouchers, bar code vouchers and in store cashback deals. It also presents cash incentives and bigger offers for users who enter certain restaurants and high street stores and check in.
Companies signed up to offer exclusive deals and savings via the Quidco Mobile app include high street retailers such as Carphone Warehouse, restaurants and cafés such as Pizza Hut and Esquires Coffee, as well as gyms and travel agents.
Typical offers available right now include:

Charles Tyrwhitt - check in to unlock a £5 off £50 voucher plus free silk cufflinks
Ann Harvey - check in to earn 25p plus get 20% off everything
Halfords - check in to earn 20p
T-Mobile - check in to earn 20p
Staples - check in to 10p plus back to school offers
Hotel Chocolat - check in to unlock an exclusive 10% voucher code
Hannah Green from Quidco said, "One in every 10 people owns an Android phone and regardless of what contract they have, the phone is costing them money. The Quidco app gives them the opportunity to earn money back by paying cash just for checking in to certain stores and restaurants. It'll also help save money on a night out or at the shops, as it lists vouchers and discounts local to the phone user."
Launched on the iPhone in May, the app achieved 100,000 downloads in its first week and ranked number 4 in Apple's app chart 2 days after launch.
The Quidco Mobile app is available to download for free from the Android Market store from today.
Notes to editors
*Research from GfK Retail & Technology found that 1 in 10 Brits have an Android phone
About the Quidco App
Created by the UK's largest cashback and voucher codes website, the Quidco app displays the offers available to users when they are out and about. Instant discounts are available by showing the voucher code or bar code on the phone's screen at the point of sale, and in store cashback is achieved by registering a debit or credit card on the app (or Quidco website) and using it to pay in store.
The check in function, which is currently available in over 12,000 locations in the UK, rewards users with cash or bigger offers than previously shown when selected while inside the store or restaurant. The cash is paid into the user's Quidco account and can be withdrawn twice monthly.
About cashback
Instead of going directly to a retailer's website, visit a cashback site such as quidco.com and look for the retailer there. For each merchant, all of the cashback offers and voucher codes available are displayed and by selecting one, you are then taken to the retailer's website to shop as normal.
Because the merchant sees that you have bought something after clicking through from a cashback site, it pays them a commission which they pass on to you as cashback. Users can also benefit from instant discounts using voucher codes and printable vouchers for use in stores.
About Quidco
Quidco.com is the easy way for people to save money on every purchase. It pays 'cashback' when people click through and make a purchase at any of the 3,000 retailers listed on its website, by paying the commission it gets from the retailer, directly into the shopper's bank account. It also lists voucher codes, which give an instant online discount, restaurant vouchers and printable vouchers, which give a discount in-store.
Quidco.com was founded in 2005 with a mission to help people save money and is the UK's leading cashback and voucher website. The site is free to join and currently has more than 1.5 million members who can each save on average £450 in the next year.
###