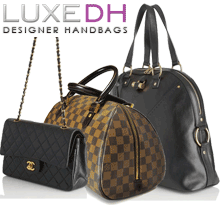 It is important for women and men to know that there is place [LuxeDH] where they can buy guaranteed authentic pre-owned handbags at great prices
Miami, FL (PRWEB) September 06, 2011
What does well-known television and radio host Carson Daly do when he needs advice on authentic handbags?
He calls LuxeDH.
Carson Daly, former VJ on MTV's Total Recall Live and current radio host for Southern California's biggest station, 97.1 AMP, interviewed Sabina Jacobs of LuxeDH to curb his knowledge of handbags and gather information for his next important purchase: an authentic bag for his girlfriend.
LuxeDH, a safe, secure online boutique for Authentic Pre-Owned Handbags, offers women an opportunity to buy Chanel, Louis Vuitton, Gucci, Marc Jacobs, Balenciaga, Prada, Fendi, Dior (and more) at prices up to 50 percent off retail and with monthly payment plans.
Sabina Jacobs, LuxeDH's Chief Buyer and Authenticator, was interviewed by Carson and his co-host Angie.
"Carson was very knowledgeable about handbags. I really enjoyed helping him find the perfect bag for his girlfriend," said Sabina. "It is important for women and men to know that there is place where they can buy guaranteed authentic pre-owned handbags at great prices."
Here is a link to the 97.1 AMP CBS Radio segment featuring LuxeDH.
LuxeDH offers women the best online prices, monthly payment plans, free shipping and the widest selection of designer handbags. Prices of handbags range from as low as $ 99 to just over $ 2000.
LuxeDH also offers cash for pre-owned handbags through an easy three-step process on the site. Click on the "Sell Your Bag" link, upload a couple of pictures, send in your bag and you get a check sent right to you. There is also a Buy Back Program, so if you want to buy the latest in handbag fashion trends, sell your bag back to LuxeDH and use the credit to purchase another gorgeous, authentic pre-owned bag.
The site also has an endorsement from MyPoupette.com, the Internet's oldest and most recognizable designer handbag authenticator, as an approved seller of authentic merchandise.
FOX-WSVN (Deco Drive) Channel and CBS (WFOR) also recently ran segments on LuxeDH.
About LuxeDH:
LuxeDH is the biggest online boutique offering Authentic Pre-owned Designer Handbags. Used Louis Vuitton Handbags, Chanel, Gucci, Prada, Dior, Chloe, Balenciaga, Fendi, Marc Jacobs, Yves St. Laurent and more! All of our designer handbags are guaranteed authentic. We work hard to ensure that all of our designer handbags are authentic. We employ a team of authenticators around the clock to check and double-check all of our designer handbags. We pride ourselves on offering the most amazing deals on authentic pre-owned designer handbags to our loyal customer base.
###