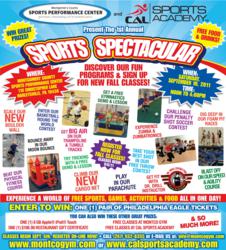 The goal of the Sports Spectacular is to introduce a variety of sports to families so that they can discover a love of sports.
-- Corey Lord, Owner of CAL Sports Academy
Harleysville, PA (PRWEB) September 03, 2011
Need a little excitement? How's experiencing Bucks and Montgomery County's first Family Sports Spectacular sound? On Saturday, September 10th from Noon to 4:00pm Montgomery County Sports Performance Center, located at 110 Christopher Lane, Harleysville, PA and CAL Sports Academy are providing a one of a kind event for the entire family, the Fall Family Sports Spectacular. The Sports Spectacular is an afternoon of: gymnastics clinics; digging deep in foam pit races; basketball knockout and dribbling contests; ZUMBA® for adults and ZUMBATOMIC® for kids; bouncing on trampolines and tumble tracks; scaling boulder walls; soccer penalty shot contests; crab soccer games; getting fit with Dr. Drill Instructor; beating a physical fitness course; blasting off in a speed and agility course; and bouncing in a moon bounce! Plus there's free food, drinks and contests for great prizes available for you, your staff and the whole family.
The Sports Spectacular features a Sports Passport that allows families to discover new sports and programs for kids and adults of all ages and abilities. "The goal of the Sports Spectacular is to allow families that may not have been able to participate in a community sports to get introduced to a variety of new sports at one time and on a free basis, so that they can discover a love of sports," said CAL Sports Academy owner Corey Lord. Along the way, participants can get their Passport stamped at each station. This event allows adults to rediscover that inner athlete that has been waiting to get out again and for children and/or grandchildren to participate in sports that they may have never tried before. During the Sports Spectacular Montgomery County Sports Performance Center and CAL Sports Academy will be drawing entries for instant win prizes, plus there will be a final drawing for larger grand prizes!
Completed in June 2010, the Montgomery County Sports Performance Center, located at 110 Christopher Lane, Harleysville, PA is the largest built-for-sports performance and training facilities in the region! It was designed from the ground up for safety, fun and the purpose of teaching students and athletes the latest techniques in the sport of gymnastics, cheerleading, and various turf and hardwood sports. The 32,000 square foot, clear span, center is filled with the latest equipment for gymnastics and cheerleading and sports. Montco Gym features three complete gymnasiums and a parents viewing area. In-Ground pits, Trench Pits and Tumble Track Pits for "State of the Art" Safety and for gymnasts to learn the highest level of training techniques in the safest environment possible.
With over 50 years of sports experience between them, Kori Yancey and Brad Davis are "hands on" business owners of Montgomery County Sports Performance Center provide an extensive gymnastics, cheerleading and sports class schedule for boys and girls of all ages. Montgomery County Sports Performance Center is also the home of CAL Sports Academy, Dr. Drill Boot Camps, Sabo School of Dance and SEPA Wrestling. Contact: Brad Davis, Korey Yancey or Don Casey at 267-932-8355 or visit http://www.montcogym.com/.
Corey A. Lord, Founder/Owner of CAL Sports Academy, was the assistant head men's basketball coach at Gwynedd Mercy College from 2006-2010, while there his primary responsibilities included bench coaching, recruiting, and community relations. Prior to joining the Gwynned Mercy College Staff, Coach Lord led the development and expansion of youth athletic programs for North Penn YMCA. An internationally acclaimed athlete, Coach Lord represented his native Country Barbados in Soccer as a youth as well as at the CARIFTA Games in Track & Field through elementary and high school, he also competed in the U.S. National Scholastic Championships from 1988-1992. Coach Corey is a motivational speaker who brings his high level of energy, enthusiasm and ethics to community programs. For More Information About CAL Sports Academy Contact Corey Lord by calling: 215-896-0810 or visit: http://calsportsacademy.com
# # #