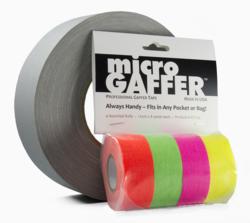 microGAFFER is a super-strong, waterproof tape with a rugged cloth backing -- practical for everyday household uses.
Stamford, CT (PRWEB) September 06, 2011
Old-fashioned duct tape can be used for many adhesive purposes. Funny thing is, it's not supposed to be used on ducts because it can become brittle over time, and even catch fire. Besides, for most of the things people use duct tape for, there's actually a better kind of tape. It may not be a household name, but gaffer tape is a super-strong, waterproof tape with a rugged cloth backing, rather than duct tape's usual vinyl. If it needs to be repositioned or removed at a later time, gaffer tape leaves no adhesive residue. Those qualities make gaffer tape the tape of choice for many professional applications—and now, new microGAFFER from Visual Departures Ltd. makes it a practical choice for everyday household and fix-it uses.
Gaffer tape gets its name from TV and movie sets, on which the chief electrician is called the gaffer. In studios and on location, it's used for everything from securing lighting hardware to taping cables safely to the floor. It's also an old standby for photographers and videographers, doing things no piece of hardware can do, be it clamp, clip, or thumbscrew. But the downside of gaffer's tape—and of duct tape too—is that it comes in rolls so big and heavy that they're a nuisance to carry around.
An ingenious solution to that problem, microGAFFER is high-quality professional cloth gaffer's tape made pocketable. Each roll is just an inch wide, as opposed to the two-inch width of a standard roll of either gaffer's tape or duct tape. And a roll of microGAFFER starts out at a diameter of less than 2.5 inches, as opposed to a standard roll's 6.5 inches. That's also a much smaller diameter than a roll of duct tape. (In fact microGAFFER is roughly the size of a roll of electrical tape, though not meant for insulation purposes!) Using microGAFFER instead of duct tape means never having to remember where to find that big, heavy roll of tape—because microGAFFER is small enough to stash in a pocket.
microGAFFER is there whenever needed, leaving hands free for hammer, nails, or whatever else it takes for around-the-house tasks. And at a scant 2.2 ounces, as opposed to the one- to two pounds of a full-length roll of duct or gaffer tape, a roll of microGAFFER won't break a toe if it's dropped! What's more, because it's strictly cloth-backed, it tears more easily than duct tape—and its one-inch width means there's no need to tear it lengthwise to get a narrower piece, as often happens with duct tape. (And don't forget that it doesn't leave a residue like duct tape and electrical tape.)
Visual Departures Ltd.'s microGAFFER is available in multi-packs of four eight-yard rolls, priced at $21.50 per pack. The Classic Multi-Pack includes two rolls of black microGAFFER, one of gray, and one of white. The wild-and-crazy Fluorescent Multi-Pack includes one roll each of brilliant orange, magenta, green, and yellow. The intense colors of Fluorescent microGAFFER are eye-catching, to be sure—but don't dismiss its usefulness in color-coding and labeling all kinds of stuff. Unlike shiny, plastic-backed duct tape, anything written on microGAFFER—with a pen, pencil, or felt-tip marker—goes on easily and doesn't rub off.
For more information, visit http://www.microgaffer.com, e-mail sales(at)visualdepartures(dot)com, or call (800) 628-2003. Visual Departures Ltd. has been designing innovative products for working photographers since 1982. The company created the original Flexfill® collapsible reflector and Steadybag® camera support. It also distributes the full range of Rosco, Dedolight, and Hitech filter products.
###