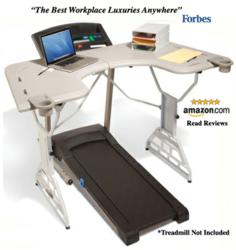 the cost of poor sleep patterns to U.S. companies totals $63.2 Billion a year due to lost productivity.
Phoenix, AZ (PRWEB) September 02, 2011
Millions of Americans (roughly one in three adults) find it difficult to achieve a good nights sleep. A study published today in the journal Sleep states that the cost of poor sleep patterns to U.S. companies totals $63.2 Billion a year due to lost productivity. TrekDesk Treadmill Desk offers a solution.
The study conducted at Harvard Medical School surveyed 7,428 employees covered by company health plans nationwide. 23% suffered directly from insomnia which resulted in a loss of 11.3 days annually at an annual cost of $2,280 per employee.
The study found that employees with insomnia suffered lower productivity rather than higher rates of absenteeism illustrating a phenomena known as presenteeism, where an employee is present but ineffective at normal job requirements.
"We were shocked by the enormous impact insomnia has on the average person's life. Americans are not missing work because of insomnia. They are still going to their jobs but accomplishing less because they're tired," stated Ronald Kessler, leader of the study in a statement.
Researchers at the University of Chicago previously found that poor sleep patterns led to a reduction in human growth hormone, responsible for proper fat to muscle ratios in our body. Metabolism can be affected negatively as well with the body releasing more glucose seeking to replace lost energy not gained by a restorative sleep. The study found further that middle aged adults not achieving sufficient amounts of sleep illustrated a 37% risk of raised blood pressures and hypertension over a five year period increasing their risks for heart disease. These studies imply that the cost of sleep deprivation may actually be higher than estimated.
Why should sleep matter to an employer?
Sleeping imparts the following benefits:

Clearer thoughts
More energy
Positive mindset
Healthy weight maintenance
Muscle strength
Stress relief
Normalized blood and glucose levels
Better decision-making ability
Stronger immune system
Walking reduces stress levels and helps you relax. It also increases levels of dopamine, serotonin and norepinephrine, neurotransmitters that affect mood and sleep.
Walking more during the day may be the answer to a sounder more restorative sleep according to the National Institutes of Health and President's Council on Physical Fitness. The problem is that employees on average walk less than ½ the amount necessary minimums established by the Surgeon General citing lack of time and lack of energy.
That is the main advantage of the TrekDesk treadmill desk. TrekDesk allows slow walking throughout the day (no sweat) enhancing health and improving sleep patterns.
Weight gain has also been associated with many sleep disorders including sleep apnea. The weight loss achieved using a treadmil desk from TrekDesk may alleviate or reverse these conditions as well.
Walking while working provides the energy necessary to make it through the day as well as the relaxation component necessary for a good night sleep.
Designed to fit any existing treadmill, TrekDesk is an affordable, full sized workstation allowing individuals the opportunity to gain the necessary amount of exercise daily to maintain health, prevent disease, strengthen muscles, boost mood and productivity, without requiring additional time during the day or extra motivation.
Join the TrekDesk "Movement Revolution" to learn more on TrekDesk's Facebook page.
###