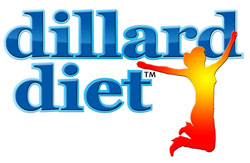 This diet is awesome. I lost 45 pounds in a very short period of time and have kept it off for over a year now...
Eustis, FL (PRWEB) September 21, 2011
For the first time ever, Dr. Dillard is offering the Dillard Diet program to anyone who can access the internet and sign up for the program online. Dr. Dillard has taken his original Dillard Diet program and restructured the program for internet users who are not located near one of the six Florida clinics.
"This diet is awesome. I lost 45 pounds in a very short period of time and have kept it off for over a year now..." Leslie of Lake Mary, Florida writes in her testimony. Leslie is just one of the many patients of Dr. Floyd S. Dillard, M.D. who has benefited from the Dillard Diet program.
The Dillard Diet was created originally by Dr. Dillard, out of a concern for his patients, who he found were spending large sums of money on diabetic and blood pressure medications. Dr. Dillard was finding some patients had to take up to nine pills a day. Dr. Dillard understood prescription drugs are not only expensive, but also have unwanted side effects. This provoked Dr. Dillard to devise an effective program that would permit his patients to become medication-free (or nearly medication-free) and healthier at the same time. To his delight, after working with Leslie and many others, he realized he had stumbled upon an effective and healthy way to activate weight loss and improve the health of his patients.
Dr. Floyd S. Dillard, M.D., a Florida based internal medical physician, originally, created an effective weight loss program for Central Floridians located within proximity to his six clinics.
In the past, program participants were required to schedule visits with one of Dr. Dillard's clinics for in-person visits. Because of such success his patients were experiencing from the Dillard Diet, word has spread rapidly, and it has prompted Dr. Dillard to respond to the public demand by expanding the program to the general public.
The Dillard Diet an easy-to-follow, convenient, and cost effective diet plan in conjunction with natural diet supplements that will assist those who want to achieve similar results to his clinical patients.The plan consists of eating non prepackaged foods, readily available at most restaurants, and made with simple ingredients that be easily prepared out home. Dillard Diet participants have reported rapid weight loss; it is also reported some patients have seen as much as a 15 pound weight loss within the first week.
Of course with any program, results are individual, please visit http://www.dillarddiet.com for more information.
###