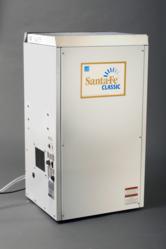 Madison, WI (PRWEB) September 04, 2011
After natural disasters such as hurricanes, tropical storms and floods, excess moisture and standing water can quickly contribute to the growth of mold in homes, especially in low-lying areas such as basements.
If anything of value is stored in the basement or if it is used as additional living space, it is important to dry this area as quickly as possible in order to prevent permanent damage to belongings and the structure. Relative humidity levels rising above 60 percent stimulate the growth of mold, mildew, bacteria and other biological allergens, which can potentially create dangerous living conditions.
It is very important to remove all of the remaining floodwater as quickly as possible after the basement has been deemed safe to enter. Once the standing water is removed the next step is to use a large capacity high efficiency dehumidifier to start drying out the basement. Drying rates are greatly improved by lowering relative humidity, adding heat and increasing air movement; all functions of a high powered dehumidifier. Experts recommend using dehumidifiers with a regenerative heat exchanger and high capacity fan, like the units offered by Santa Fe. These features are necessary for fast and effective drying.
Not All Dehumidifiers are Created Equal
Santa Fe dehumidifiers feature a large moisture removal coil, regenerative heat exchanger and high capacity fan, which allow the units to remove two to three times more moisture per kilowatt of electricity than a conventional dehumidifier. In addition, Santa Fe dehumidifiers allow for high efficiency air filtration. All Santa-Fe units come with at least a MERV 8 filter, and most come standard with MERV 11 filtration capabilities. Santa Fe freestanding residential units are built with the same components as the company's commercial units and as a result are able to remove up to four times more water than the units available at home improvement stores.
Santa Fe high capacity dehumidifiers are the most energy efficient on the market and are designed to effectively and quickly remove excess moisture due to flooding. The units can help maintain the structural integrity of your home, minimize mold growth, and improve the indoor air quality of the overall home by removing odor-causing moisture.
If unsure about how to clean an item consult a specialist. Specialists in furniture repair, restoration, painting, art restoration, carpet and rug cleaning, and water damage are commonly listed in phone books. Be sure to ask for and check references and look for specialists who are affiliated with professional organizations.
For more information on Santa Fe freestanding dehumidifiers, visit http://www.DehumidifierSolutions.com.
# # #