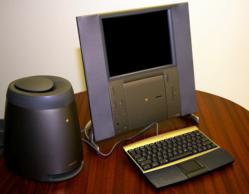 Imagine an object that's a television, a radio, that's a computer, imagine all of those technologies converging into one object" -Jonathan Ive (1997)
Atlanta, GA (PRWEB) September 02, 2011
A rare vintage collectible item, an Apple Twentieth Anniversary Macintosh also known as a "TAM" that is still sealed new in the original box has hit eBay. This particular model being more than a decade old was originally released by the technology giant in the late 1990's. It is extremely rare or almost impossible to find one that is brand new and has never been opened.
One of these "original vintage models" has made it's way to eBay - new and unopened. As described, only the interior accessory box that holds the remote control battery has been inspected to remove those batteries. (to protect the rest of the system from damage). The rest of the main computer and all other components remain brand new and sealed as originally shipped from the Apple factory. Also included are framed copies of the original purchase receipt(s) for the perspective new owner.
Heralded as a celebration of 20 years of Apple Computer Inc, the Twentieth Anniversary Macintosh (abbreviated as "TAM" by its followers), was originally announced at MacWorld Expo, San Francisco on 7 January 1997, with a release date of late Spring 1997 with an original retail price of US$7,499. The TAM's design vastly deviated from other personal computers of its day. At the time, beige boxes reigned supreme in the PC world, and even so in the Macintosh stable, with the tried and tested "box with monitor" designs. The TAM however featured a metallic green/gold paint, and was one of the first desktop based LCD displays, in a 2.5" deep enclosure. Although its logic board was one of the only unique internal components, the exterior was designed to represent a state-of-the-art futuristic vision of where personal computing could eventually take us.
The vintage collectible was made available on eBay over the past few days and the bidding on the item has already reached over several thousand dollars with a little less than a week still left to bid. The item has been made available worldwide to Apple collectors, fans, aficionados and the like.
Considered to be at the forefront of industrial design at it's time, the system was designed by the legendary Jonathan Ive as his first major project for Apple. It featured a separate Bose sub woofer, keyboard with leather palm rest, detachable mouse, and flat screen even though it was designed and released more than 14 years ago. Rumor has it that some of the original "20th Anniversary TAM Models" were even delivered to their buyers via limosine service.
This forward thinking Johnny Ive design also made several appearances during it's original release in 1997. The 20th Anniversary Mac's sleek and futuristic shape was even featured in the entertainment world. Even back then it was considered way ahead of its time having made cameos in Seinfeld, Friends, The Pretender, and Batman & Robin. What else would a secret government organization and a famous superhero use?
Surely to be a treat and coveted collectible item for years to come, one lucky bidder will become the owner of a brand new piece of vintage Apple history!
SOURCE The Apple Museum, Wikipedia, YouTube, eBay
(auction link to item and commercial link)
# # #