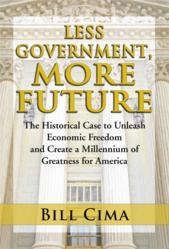 San Diego, CA (PRWEB) September 06, 2011
With debt reduction, economic lethargy, job creation and the size and power of government occupying center stage in the national debate, along comes a book that provides an insightful analysis and perspective into both the problem and the solution. Author Bill Cima asserts that Less Government, More Future is based on one simple, time tested, undeniable truth: the further government progresses beyond its core functions, the more it degrades the nation's economic vitality and dims the luster of its future.
The book encompasses and is supported by a sweeping view of history, as well as studies by top economists. Beginning with an analysis of the political spectrum that dispels common misconceptions about the positioning of various forms of government, the book illuminates the origins of freedom and oppression. From there it progresses to the quest for freedom with the ancient Greek democracies, the Ancient Roman Republic and finally to the founding of our nation on the far right, where government is limited, and freedom and economic vitality high.
The central theme of the book is how this far right positioning gave America a huge advantage over the rest of the world that is now being squandered by an oversized government. The meteoric rise to world power status that America enjoyed within one century of its birth is now being eclipsed by a century of constant assaults on economic freedom.
In making his arguments, Bill Cima draws upon his wealth of education and experience, from his U.S. Naval Academy B.S., his M.S. and his MBA degrees to his experiences as a Navy fighter pilot, airline captain, aerospace industry director, entrepreneur and small business owner and operator. Having traveled broadly and witnessed first-hand the economic consequences of all forms of government, Bill is a strong proponent of the free market system, based not just on book knowledge, but on personal observation.
Compelling evidence is presented to show that our present level of total government spending (federal, state and local combined) is nearly twice its optimal level, severely degrading our economic rate of growth. Further, the book goes on to show how recent crises, such as the Savings and Loan crisis of the late 1980's and the 2008 financial crisis, were unwittingly engineered by the federal government.
Less Government, More Future presents a solid intellectual argument that economic freedom is the key to America sustaining its position as the world's leading super power for the next millennium. That is, the book shows how keeping government on a short constitutional leash, as the founders intended, will once again create a nation where people are free to produce and free to keep most of the results of their production, thereby restoring America's economic vitality, its future and its greatness.
To view a short video on Less Government, More Future and to order hardcover and ebook versions, visit:
http://www.lessgovernmentmorefuture.com
####