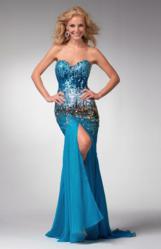 Over the last decade Promgirl.net has pioneered innovations in e-commerce making the purchase of dresses online fun and easy
Philadelphia, PA (PRWEB) September 04, 2011
Jovani Fashions has just recognized Promgirl.net with their 2011 Outstanding Website Award for selling prom and homecoming dresses online. This positive endorsement comes on the heels of Promgirl.net's re-launch of their website in preparation for the 2011 Homecoming and 2012 Prom seasons.
The Outstanding Website Award is the second acknowledgement from Jovani Fashions for Promgirl.net; which received last year's Excellence in E-Commerce Award from the New York fashion label.
"We are honored to receive this award from such a prestigious designer of prom dresses and evening wear," said Sunny Adrian, President of Promgirl.net. "This award recognizes Promgirl.net's continuing commitment to providing our e-commerce customers with the very best online shopping experience."
"Over the last decade Promgirl.net has pioneered innovations in e-commerce such as specialized searches and the virtual dressing room all in the name of making purchasing a prom dress online fun and easy."
The re-launch of their website is the most recent example of Promgirl.net's continuing mission to optimize e-commerce for a growing customer base. With ever increasing numbers of consumers buying online it comes as no surprise that Promgirl.net is working tirelessly to create a better online purchasing experience.
The new site boasts many added features such as specific style classifications for dresses and gowns, high resolution images with auto-zoom, a built in currency converter and improved shipping options. Also in an effort to satisfy the needs of a growing Spanish speaking demographic, Promgirl.net will now offer descriptions of their hottest styles in Spanish as well as English.
Promgirl.net has also expanded their involvement with social media such as Facebook, Twitter and Tumblr in order to facilitate better interactions between customers and operating staff. The use of numerous promotions and giveaways ensures Promgirl.net is constantly active in the social media world thereby empowering their subscribers to help them identify the newest hot styles and emerging trends.
Promgirl.net also implemented an aggressive pricing policy with their re-launch to help combat market penetration by overseas discount e-commerce sites. In addition the new site features a robust customer protection policy complete with authenticity guarantees to help protect online shoppers from counterfeit designs.
The Outstanding Website Award is proof of the success Promgirl.net has found in their quest to bring their customers the best in prom fashion at the best prices.
About Promgirl.net:
With more than 25 years of experience in selling prom gowns and formal dresses, Promgirl.net offers an extensive selection of dresses to meet the needs of each and every girl heading to prom, graduation, homecoming, pageants or other formal events. The Promgirl.net team strives to offer only the most breathtaking designer gowns out there and to provide outstanding customer service to everyone who orders their top quality gowns.
For additional information, contact Promgirl.net at 1-877-900-7766 or online at http://www.promgirl.net.
###