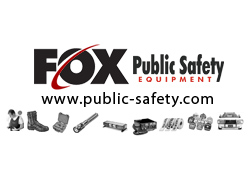 Fox Public Safety Equipment is confident that customers will love seeing the full range of our www.public-safety.com [Safety Equipment Products] and services in one consolidated area and will appreciate the flexibility and resources the site has to offer
Bedford Heights, OH (PRWEB) September 05, 2011
Fox Public Safety Equipment headquarters in Bedford Heights, OH, has remodeled their store located at 23600 Aurora Rd, Bedford Heights, OH and has extended their store hours from 8:30 am to 5:00 pm. With the new store renovation and new product lines, they have also updated and moved their website to a new web address http://www.public-safety.com. The new website offers a wide range of products, tools and information for the public safety community.
The new website is filled with product information, images, videos, and cross references to many different product lines including Auto Extraction Tools, Body Armor, Footwear, Gloves, Protective Cases, Firefighting Equipment, Flashlights, Spotlights, Medical Equipment, Rope Rescue Gear, Sirens, Speakers, Storage Units, Tactical Equipment, Traffic Control Tools, Training Manikins, Uniform Apparel, and Vehicle Lights and Equipment. We also offer a full line of replacement batteries for Cell Phones, Two-Way Radios, Cordless Phones, Laptops, Digital and Video Cameras, Thermal Imaging Cameras, and many more.
The Fox Public Safety Equipment website includes some of the top manufacturers in the industry such as Whelen, Streamlight, Maglite, Pelican, Code 3, Simulaids, Microflex, Federal Signal, Point Blank Body Armor, The Glove Corp, Unitrol, Troy Products, Turtle Plastics, Empire Batteries, TNT Tools, Thorogood, Ready Rack, Task Force Tips, Under Armour, and many more.
Based on customers' needs and feedback, Fox Public Safety Equipment created a completely new website which provides an easier, faster and more secure shopping experience for customers and now they can checkout without creating an account. "Fox Public Safety Equipment is confident that customers will love seeing the full range of our Safety Equipment Products and services in one consolidated area and will appreciate the flexibility and resources the site has to offer," said Brad Fox, President of Fox Public Safety Equipment.
ORDER TOLL-FREE: 1-800-FOX-INTL - 1-800-369-4685
24-HOUR FAX: 1-800-FOX-9110 - 1-800-369-9110
###