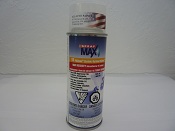 "Yes it can be done with a Spray Can!"
Carson City, Nv. (PRWEB) September 04, 2011
The European background of Pro-Spray, with color matching, price, and quality it makes for a perfect partnership. All Auto Paints is confident that when a color goes out, it will match the OEM finish. This is the number one reason we chose Pro-Spray.
Auto touch up made easy to match OEM colors with a new breed in Pro-Spray Refinishes. When looking to repair a car, light truck, or RV it is important to have a paint system that will match the color right the first time. It also works great for custom color matches. It doesn't matter if it is small, as in touch up bottles, spray cans or large, for over all use, Pro-Spray gets it done.
This product has endless possibilities. Accurate technology, advanced materials, and versatile to use. Pro-Spray Automotive Refinishing System provides body shops and the do-it-yourselfer with outstanding coverage, color matching, spray ability, and performance every time. It doesn't matter if it is an aerosol can or spray gun.
A little history on Pro-Spray Automotive Finishes: In 1994 a highly experienced group of industry leading chemists formed Cambridgeshire Coatings Ltd or CCL. Their goal was to create premier auto paint. CCL began a partnership with the world's foremost pigment and resin manufactures. The most important thing was the technology behind color creation. Using robotic application and in depth computer analysis to evaluate color palettes, CCL created a superior color system and data base that raised the bar in color matching worldwide.
Pro-Spray is an American company with European roots. In 2003 CCL and the Pro-Spray product family were acquired by Alco Industries, an employee owned corporation.
Today Pro-Spray is a state of the art corporate and manufacturing facility in the US and UK, with distribution all through the European Union and North America. It continues to base their solid reputation on high quality products.
So if quality and color match is a priority, Pro-Spray and All Auto Paints will fill that bill perfectly. Remember, "Yes it can be done with a Spray Can!"
All Auto Paints has over 30 years of experience in the automotive paint field. There is no question that they can help with any issue the do-it-yourselfer or professional might have.
For more information contact Dan 855-977-2468
###