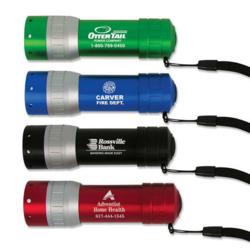 It's a big misconception that slapping a logo on anything makes it a memorable giveaway, when in fact most trade show attendees wind up with a bag full of items they've already forgotten by the time they get home
Dalton, PA (PRWEB) September 13, 2011
For over 35 years Promos That Rock has provided promotional advertising products to clients of all sizes. In order for a marketing or recognition campaign to be effective, it has to be memorable, and in order to be memorable, it has to be "different" That's where Promos That Rock comes in to help secure promotional tools to with its newly launched website.
Promos That Rock's experienced Account Executives will help find the perfect custom advertising product for any audience and budget. Promos That Rock specialize in promotional items for trade shows, employee recognition, client appreciation and many other types of marketing campaigns using promotional tools.
Promos That Rock proves to be the new one stop shop for all marketing advertising products. The site has an easy interface and makes is simple to find and right product and the right price on all advertising products. Convention supplies can be purchased in bulk on. Promosthatrock.com at great prices. There are thousands of items that can be purchased for promotional or advertising purposes. This is the ideal spot for trade show supplies and business products. Use advertising products to remind customers and prospects of a charity event for business or other organizations. Universities, colleges or schools looking to boost school spirit can spread the word more effectively with promotional products from Promos That Rock! Browse the online catalog today, or request a print catalog of featured promotional products.
LED Provides Long Lasting Battery Life. Power at your finger tips. This Long Point LED Flashlight has a compact 9 LED torch will help you find your way. Beautifully crafted aluminum trimmed in silver. Wrist strap secures the light in case of a lost grip. Push button on/off switch saves battery life.
Give a 16 oz. Omega Mug for advertising promotions - Made in the USA - High gloss finish - Slide open lid - Dishwasher safe, top rack - 16oz dual insulated - Mix up to three colors of mugs per order.
Promos That Rock will soon be directly tied to all convention, and trade show supplies. Customizing and editing advertising products is made easy by the site promos that rock. One can visit the site at promosthatrock.com or navigate via the site below.
###