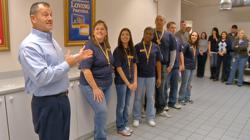 "The reality TV-style training program was a unique, engaging way for us to reach our valued team members and remind them of our commitment to putting Auntie Anne's guests first."
Harrisburg, PA (PRWEB) September 08, 2011
JPL's video production and instructional design teams collaborated with Auntie Anne's to create a reality TV training program to educate and motivate thousands of Auntie Anne's associates about delivering memorable guest experiences.
The award-winning program features six associates from around the United States who compete against each other to deliver the best guest relations experience and win the grand prize. The six contestants, consisting of store managers and crew members, were sent to Auntie Anne's headquarters in Lancaster, Pa. to show off their customer service skills in competitive exercises. The winner was chosen for the ability to best embody the brand and engage guests.
The training program was shared via DVD with more than 850 Auntie Anne's stores in the United States. The purpose of the video is to help both new and current crew members embrace the company's commitment to exceptional customer service. Managers received a training kit with the video, talking points to help explain the program and tools to empower their associates. The kit also included motivational stickers, posters and register cards to connect crew members with the key points of the program to continue the commitment to customer relations after watching the program.
"The reality TV-style training program was a unique, engaging way for us to reach our valued team members and remind them of our commitment to putting Auntie Anne's guests first," said Kevin Hostetter, director of training for Auntie Anne's. "The team members at JPL understood the importance of getting to know our company before creating our training program. As unofficial Auntie Anne's team members, they were able to develop creative ideas that were relevant and impactful," he added.
JPL team members Jennifer Kerwin, senior instructional designer; Dean Sell, producer; and Mary Pedersen, creative director, went through intensive three-day training at Pretzel University at Auntie Anne's corporate headquarters and learned first-hand how to make the product, serve guests, and work in an actual Auntie Anne's store. Kerwin also attended a company store manager meeting and interviewed managers about their goals for the training program and the information they wanted to convey. The Auntie Anne's team also shared market research with JPL that provided a unique insight into their brand and the public's perspective of their brand.
"The time we spent with the company and learning their culture enabled us to feel part of the Auntie Anne's team and truly understand their mission and goals. This made it easier for us to put ourselves in the shoes of the crew members and store managers and helped us develop the concept. As a whole team (Auntie Anne's and JPL) we felt the engaging nature of a reality TV competition would help reach the audience and keep their attention in a new way," said JPL Senior Instructional Designer Jennifer Kerwin.
"We used real people, in a real store and gave them real challenges that employees face every day," said JPL Producer Dean Sell. "The video has a story that unfolds. It leaves the viewer wondering who will win and why. People who watch it, root for the contestant who they think is the best at the tasks and hopefully, they see themselves in the contestants and are motivated to improve their skills," added Sell.
"When your team is looking forward to the next episode, you know you have something more than a training program," added JPL Creative Director Mary Pedersen. "Auntie Anne's is a brand built on truly caring for their guests. It was that same care for their crew members that prompted training that would connect, inspire, and teach."
JPL has been producing instructional media for more than 20 years. In the mid-1990s, JPL expanded its team to include instructional designers and began developing interactive training applications delivered on CD-ROM and through the Internet. Today, JPL has a Learning Solutions department that partners with clients to plan, develop and implement technology-based learning applications. For clients looking specifically for training videos, the learning solutions team can also provide expertise in analysis, instructional design, assessment and tracking.
About JPL: A strategic, integrated communications company based in Harrisburg, Pennsylvania, JPL helps businesses and organizations with their branding and marketing, web and mobile development, video production, learning solutions and meetings and events. JPL has diverse clients including the Hershey Company, Harsco, Giant Food Stores and the Commonwealth of Pennsylvania. For more information visit JPLcreative.com, Twitter.com/JPLcreative or YouTube.com/JPLcreative.
About Auntie Anne's: The world's largest hand-rolled soft pretzel chain, Auntie Anne's mixes, twists and bakes pretzels to golden brown perfection in full view of customers and is committed to pretzel perfection by guaranteeing you will love its pretzels or they will replace it with one that you do. Established in 1988, Auntie Anne's core pretzel lineup includes Original, Cinnamon Sugar, Almond, Pepperoni, Garlic, and Sour Cream and Onion Pretzels. Pretzel Stix and Nuggets offer a more portable option for pretzel lovers on the go, and the Pretzel Dog is a popular lunch item. For more information, visit http://www.auntieannes.com, http://www.facebook.com/auntieannespretzels, http://www.youtube.com/auntieannespretzels or http://www.twitter.com/auntieannespretzels.
###