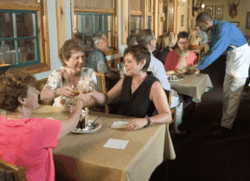 "Groupon and similar daily deal sites can be dangerous for independent restaurants in today's recessionary economic climate."
Greenville, SC (PRWEB) September 06, 2011
The recession is putting a tight squeeze on independent restaurant owners. Food and beverage costs have continued to rise while customer counts are down. The resulting cash and profits crunch has lead these independent restaurants to consider adding "daily deal" services like Groupon and Living Social to their restaurant marketing plan to bring them customers at a seemingly low or no cost.
The way this marketing idea works is that the site members buy the daily deal which is a deep discount typically of at least 50%. An example would be: "$20 of food and beverages for only 10!" The site first collects the monies from the sale and after taking their percentage, usually 50%, pays the restaurant, in two or three separate payments, for all of the Groupons sold. The restaurant then honors the deal when the buyers come in.
A coach to independent restaurateurs as well as the 17 year owner of Saskatoon: Steaks, Fish and Wild Game in Greenville, SC, Edmund Woo, says, "While on the surface, this restaurant marketing idea looks appealing, a restaurant must consider three factors or it will get badly hurt by this restaurant marketing plan!"
The three factors are:
1. If the "deal" is structured the same as the typical "daily deal" of "two for one" and if the split between the "daily deal" site and the restaurant is the usual 50/50, this restaurant marketing idea could spell financial disaster for the restaurant.
2. If the restaurant is not properly staffed and train, the "daily deal" will lead to bad and insufficient service which will leave the restaurant in an even worse financial situation than what it was before executing the "daily deal" as part of its restaurant marketing plan.
3. Without having a way to capture the "daily deal" customers' personal data, using a "daily deal" restaurant marketing idea would be a waste of time and resources.
Edmund concludes that, "If a restaurant considers each of these three factors carefully, the restaurant could structure a 'daily deal' that would work to bring in new customers for a reasonable cost that the restaurant could market to again and again. As such, a 'daily deal' restaurant marketing idea could be a part of an independent restaurant marketing plan!"
The author of "The 5 Hour Restaurant Work Week: Work Less, Make More and Have a Life, too", Edmund Woo dispenses free business-building advice for independent restaurateurs through his online blog, http://5hourrestaurantmarketing.com/. The free service details Edmund Woo's researched and refined restaurant marketing plan full or restaurant marketing ideas and tips proven to get new restaurant customers. Edmund Woo's blog is becoming a weekly diet to help independent restaurateurs avoid starvation and cultivate growth.
Besides his restaurant specific marketing blog, Edmund Woo offers a free audio Report called, "Independent Restaurant Marketing and Work Less Hours Secrets" a glimpse of what his 5 Hour Restaurant Work Week System offers at http://www.edmundwoo.com.
# # #