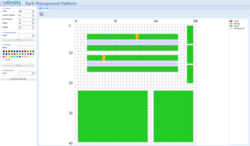 No other data center management product gvies you the wide range of automation which RaMP provides.
St. Louis, MO (PRWEB) September 06, 2011
No Limits Software will introduce version 1.5 of their Rack Management Platform (RaMP) at Data Center World in Orlando on September 11-14. Version 1.5 further enhances the RaMP automated data center management solution with an easy to configure visual view of the data center to allow data center managers to quickly locate equipment.
RaMP's ability to determine rack location in the data center and to automatically determine device location within the rack means that your data center visual view will remain accurate without all of the manual entries required by typical asset management systems. RaMP v1.5 provides the ability to easily manage data center equipment across a data center or an entire enterprise.
It is estimated that manual data entry results in an error rate of 10-15%. For 1,000 servers in a data center, this means that 100-150 of these servers will have inaccurate data recorded, requiring ongoing time-consuming and costly physical audits to verify the data. RaMP will auto-discover the equipment (including detailed configuration information such as hardware, network connections, software and system configuration) and automatically determine the location of the device down to the rack unit.
David Cole, president of No Limits Software, will be presenting a session entitled "Choosing the Optimal Solution for IT Asset Management" on Monday, September 12th from 1:45 - 2:45 at Data Center World in Orlando, Florida. Following this session, the RaMP solution will be on display on both Monday and Tuesday in the vendor exhibit hall in booth 1015.
The RaMP solution provides the following benefits:
Automated Asset Management
-- 100% data accuracy through the automated discovery of detailed device information
-- Automatically track device location down to the rack unit
-- Software license management
-- Real-time data center auditing for IT asset accounting compliance (Sarbanes-Oxley, CFR-11)
-- Automated change control to reduce MTTR and increase availability
-- Web services API provides integration with other asset and change management systems
Real-Time Monitoring
-- Power and environmental monitoring down to the device level
-- Server monitoring to identify servers which should be retired, virtualized or consolidated
-- Identify servers which are not using power management
Enhanced Capacity Planning
-- More accurate capacity planning data helps to reduce stranded power and shutdown risks
About No Limits Software
No Limits Software is a leading provider of data center management solutions, including asset management, capacity planning, and power and environmental monitoring. No Limits Software's patent-pending solution is unique in that it automates asset management to the rack unit. The RaMP solution eliminates the need for physical audits, dramatically reduces the time to find and repair equipment, improves system availability and improves data center energy efficiency by providing accurate capacity planning.
###