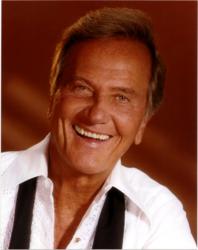 As Billboard's # 10 top recording artist of all time, Boone has sung everything from rhythm and blues to rock and roll to gospel.
Shipshewan, IN (PRWEB) September 02, 2011
In a rare performance, iconic crooner Pat Boone brings 50 years of music-making to the stage of the Blue Gate Theater in Shipshewana, IN on Saturday, September 24.
The 77-year-old music legend first appeared at this unique Midwest venue in 2009. As Billboard's # 10 top recording artist of all time, Boone has sung everything from rhythm and blues to rock and roll to gospel. This encore of his family-friendly stage show will include such standards as "Love Letters in the Sand", "Ain't Misbehavin'" and "April Love", as well as the gospel favorites that have characterized his career in recent years.
Boone claims to be "the original American Idol" based on his long-running success on "The Ted Mack Amateur Show" in the 1950s. A teenage rock star, Boone headlined his own show with Elvis Presley billed as Boone's opening act. Boone has sold nearly 50 million records in his long career, including 38 Top 10 hits and many gold and platinum albums. Boone also branched out into film (starring in 15 movies) and television, becoming the youngest person at the time (late 1950s) to host a weekly musical variety show. He currently runs his own record company, The Gold Label, and tours at his leisure.
Boone graduated Magna cum Laude from Columbia University in 1958 and currently writes a weekly Internet column on politics, religion and other timely causes. An outspoken Christian, he lends his name to numerous humanitarian aide organizations, including his own "Save the Refugees", now known as Mercy Corps, which delivers food and supplies to 23 countries around the world.
Though he is obviously a man of many and varied interests, Pat Boone remains the consummate performer. His sold-out shows delight both Boomers and the younger generation with a voice and a sense of humor that remain as sharp and sparkling as his trademark white buck shoes.
The Blue Gate Theater is a newly popular destination and part of the famous Blue Gate Restaurant. It has earned a reputation throughout the Midwest and the nation as a top-notch family-oriented entertainment center. The Blue Gate Theater is part of the Riegsecker Marketplace complex, which includes The Blue Gate Restaurant's seven beautifully-appointed dining rooms, a bakery, three retail stores and a custom-cabinet seller.
Tickets and more information for Pat Boone's 7 p.m. show are available online at http://www.bluegatetheater.com or by calling (888)447-4725.
# # #