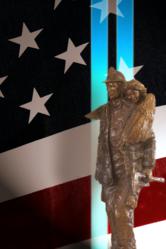 "U.S. Veterans give us Freedom ~ we give them Hope!"
Judi Combs, Founder, American Healing Arts Foundation
Scottsdale, Arizona (PRWEB) September 03, 2011
Please join the American Healing Arts Foundation Tweet-a-Thon Fundraiser on Twitter: http://Twitter.com/Am_HealingArt on September 8th 2011, from 9am to 11pm. A minimum donation of $20.00 provides one entry to win this timeless bronze. For more details on the Tweet-a-Thon, AHAF, detailed images and information on this historic bronze, please visit: http://Americanhealingartsfoundation.com.
AHAF, a 501(c)(3), provide art classes for U.S. Veterans. The classes, which include supplies, are free, and the Foundation also provides art therapy. Founder, Judi Combs says "It's all part of reuniting veterans with their peers within a peaceful environment and giving new inspiration and hope". In the near future, American Healing Arts Foundation (AHAF) will be offering classes and opportunities to First Responders as written in the AHAF mission statement.
Ron Head's sculpture is of a heroic firefighter and a devoted angel, whom is offering a 'shield of protection' by embracing his shoulders.
Ron Head spoke about what inspired the creation of "Courage & Faith". "I was watching the news continuously on 9/11. People were rushing down the stairs as the firefighters entered the building and began to move upstairs. They must have known they would not be coming back – It tore a hole in my heart, I felt helpless. What tremendous courage those firefighters showed that day.
"Then, I started sculpting - it was necessary for me to create a memorial to the firefighters. I had the vision of sculpting a firefighter with a survivor on his back; having formed the figure I added a large amount of clay behind his head to form the additional figure of the survivor. I then took a short break.
"When I returned to my studio the clay had morphed into an angel it felt like divine intervention, and so out of this immense tragedy 'Courage & Faith' was born. The courage to walk into a burning building and the faith to believe you will come out. Our veterans are our heroes and exhibit the same extraordinary courage & faith shown in New York on that fateful day."
###