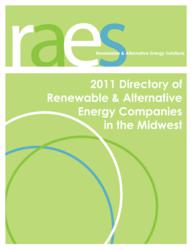 Madison, Wisconsin (PRWEB) September 04, 2011
The publisher of RAES saw a gap in the marketing place. People seeking information about the renewable and alternative energy sector had to go to multiple sources and send hours looking for information. Now, RAES has published a comprehensive directory providing company overviews, sales revenues, names of key managers and contact information for companies and organizations in the renewable and alternative energy sector with facilities in Illinois, Iowa, Minnesota and Wisconsin.
About RAES
Renewable and Alternative Energy Solutions (RAES) is the premier resource for comprehensive information and trends focused on the Renewable and Alternative Energy sector in the Midwest.
###