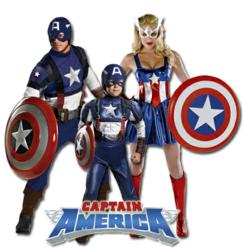 We expect the Captain America movie costumes to grow more popular with the new The Avengers film coming to theaters in 2012.
Mancos, CO (PRWEB) September 03, 2011
TotallyCostumes.com is excited to be able to offer the new Captain America Costumes to consumers in time for the DVD release of the new movie and for Halloween 2011. There has not been an official release date revealed for Captain America: The First Avenger yet, but details have surfaced at Blu-ray.com with a DVD release of October 25, 2011.
The Captain America: The First Avenger movie is a 2011 superhero film based on the Marvel Comics character. With Chris Evans portraying the undersized Steven Rogers, the movie tells of how he answers the call of duty by volunteering for an experimental program which transforms him into the super-solder known as Captain America. Working with his comrade-in-arms and sidekick Bucky, Captain America must shield the world from the ruthless Red Skull's attempts of world domination. Kids and adults can enjoy cosplay with Totally Costume's new line of Captain America Movie Costumes.
TotallyCostumes.com carries a full spectrum of Captain America costumes from the new 2011 movie uniform to the more patriotic comic book style. Boys and men not only can choose from the classic superhero uniform, they can also browse many muscle chest styles. Girls and women can enjoy the sassy form of Captain America in our sexy American Dream Costume. There is something for all ages with not only Captain America kids costumes, but also for infants and toddlers. The adult Captain America costume selection at TotallyCostumes.com is also in plus sizes for the big and tall.
"We expect the Captain America movie costumes to grow more popular with the new The Avengers coming to theaters in 2012," said Nova of TotallyCostumes.com. She foresees many more styles to be released over the next year. "I love how both kids and adults can instantly transform into a superhero and defend America's ideals in the new Captain America movie costume!"
Captain America costume accessories are offered at TotallyCostumes.com to help enhance the superhero uniform for dress-up and cosplay. Just like the costume line-up, there are accessories for both the movie and comic book style costumes. The selection includes Captain America masks, boot covers, gloves and face tattoo mask. Of course, costumes will also be able to find the new Captain America shield to top off their costume with all the important details.
About the Company:
TotallyCostumes.com, a leading retailer of superhero costumes and costume accessories for all occasions, makes sure the party never stops! This e-commerce costume retailer believes in carrying a large selection of high quality costumes in all sizes, styles and themes to fulfill any party, costume or event requirement. They have a dynamic team that works together so their customers receive their order quickly. Their friendly customer care team is dedicated to providing their customers with diligent service while their shipping facilities work efficiently in shipping your order out as quickly as possible.
###