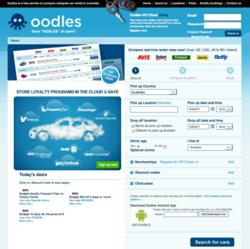 "Oodles is a free service to compare the cheapest car rental globally"
(PRWEB) September 04, 2011
Oodles.com, the ground-breaking Online Car Rental website, has now launched in Australia and New Zealand!
Travellers in Australia and New Zealand now have their own dedicate portals to the website, which already links travellers to quick, easy and stress-free VIP Car Hire at every major airport in the UK and the USA.
The sites are located at oodles.com.au for Australia and oodles.co.nz for New Zealand.
Oodles Australian airports include Sydney, Melbourne, Brisbane, Cairns, Hobart and Canberra as well as Auckland and Christchurch in New Zealand.
Dennis Jeffees, of Oodles said: "As an Australian, I am so proud to bring the service to all the major airports in our great country. I am excited to create an accessible and affordable VIP rental car hire experience for frequent and regular travellers."
Oodles really does provide a game-changing development in the travel business.
Planning International travel is becoming easier than ever as the new generation of deal aggregating websites allow travelers to search for flights and hotel rooms across a multitude of sites simultaneously. The results are delivered to the customer in an easy-to-compare list and they can make their choice from a suggested package or customize their own.
Car Rental is the odd one out in the technologically advanced online booking industry. Customers still have to search multiple sites, open three or more browser windows at once, write down or waste ink printing off the comparisons then going back to select the chosen deal, quickly, before it resets or is no longer available.
Fortunately someone has decided to bring Online Car Rental into the 21st Century. Oodles.com is the revolutionary system that searches for the best deals from the major car rental providers at airports in Australia, New Zealand UK and the USA.
Customers can customize their search to meet their individual requirements including car sizes, child seat options and discount codes. They can even add their own membership accounts to compare membership rates.
Oodles.com's unique search structure shows the lowest prices from Avis, Budget, Europcar, Hertz and Thrifty depending on their availability at the chosen country and airport. So sure are they that their service will deliver the best rates available online that if a customer can find a lower rate with one of the 'big five' companies then they will not only match that rate but will also reduce it by an additional 10%.
The website is the culmination of the vision of Mario Salvo and Dennis Jeffees, Rental Car industry pioneers. Their insight and expertise fed their ambition to provide a better service to customers who simply want the best price possible on their hire car in the shortest time without having to search every individual provider's website. Oodles.com is the answer.
Frequent or business travelers can take advantage of the new Oodles VIP Check-in facility which allows them to store all of their frequent flyer and car rental memberships remotely for instant retrieval. Every time they book a car through Oodles.com, their programs are automatically updated. They also have access to the express pick up service which enables them to receive priority collection. Their paperwork is already pre-prepared and at certain airports they can collect their car directly after viewing their name and rental bay on the information board.
The VIP service comes at no extra cost and receives free upgrades and discounted rates when connected to an existing frequent flyer account.
Facebook: http://www.facebook.com/oodlesofpoints
Twitter: https://twitter.com/#!/oodles
# # #