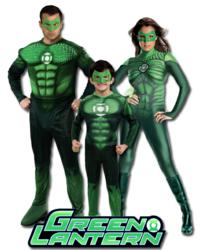 Green Lantern movie and comic book fans can find a full selection of officially licensed superhero costumes on their website for immediate purchase.
Mancos, CO (PRWEB) September 04, 2011
The new Green Lantern Costumes have arrived just in time for Halloween 2011 and the October 14th DVD release date at TotallyCostumes.com. Movie and comic book fans can find a full selection of officially licensed superhero costumes on their website for immediate purchase.
The Green Lantern movie is a 2011 superhero film based on the Marvel Comics character. With Ryan Reynolds portraying Hal Jordan, he stars as a test pilot who is granted a mystical green ring that bestows him with otherworldly powers, as well as membership into an intergalactic squadron tasked with keeping peace within the universe. Kids and adults can transform into a superhero and exercise their super powers in the Green Lantern Costumes from TotallyCostumes.com.
The men's Green Lantern Costumes are available in many different styles including an LED Light-Up version and a muscle chest style. The big and tall can also from a few different plus size styles. The adult Green Lantern Costume includes a green and black jumpsuit with attached shoe covers and a green eyemask that secures around the head with elastic strap. Some of the deluxe styles will also include a green power ring. Girls can get in on the fun with the women's Green Lantern Sexy Costume from TotallyCostumes.com. It is form fitting and fits like a catsuit.
The Green Lantern kids costumes at TotallyCostumes.com are offered in both the movie and comic book styles. Infant and toddler fans of the superhero can get in on the phone, as well. A Green Lantern Hal Jordan Baby Bunting is offered so the newborn baby can join in on the fun. A Green Lantern costume for kids will include the signature black and green jumpsuit with attached shoe covers and character eye mask.
TotallyCostumes.com is also offering Green Lantern costume accessories to help enhance cosplay with all the important details. Consumers can find the Green Lantern light-up power ring, mask accessory kit, wrist gloves, light-up energy sword and an inflatable emerald energy fist. As with all the Green Lantern costumes, the accessories are officially licensed with Marvel Comics for an authentic appearance.
About the Company:
TotallyCostumes.com, a leading retailer of superhero costumes and costume accessories for all occasions, makes sure the party never stops! This e-commerce costume retailer believes in carrying a large selection of high quality costumes in all sizes, styles and themes to fulfill any party, costume or event requirement. They have a dynamic team that works together so their customers receive their order quickly. Their friendly customer care team is dedicated to providing their customers with diligent service while their shipping facilities work efficiently in shipping your order out as quickly as possible.
# # #