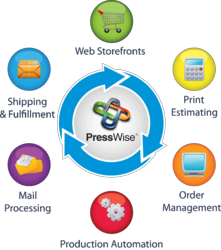 Integration is increasingly important in the marketplace, and our simple yet powerful APIs give a print service provider the power to unite different applications into a single, universal workflow.
(PRWEB) September 07, 2011
Datatech SmartSoft will be showing an array of new enhancements for its web-to-print and workflow automation software PressWise at GraphExpo in Chicago from September 11-14th.
These enhancements include:
1) Enhanced PressWise Integration APIs – the updated PressWise APIs make it even easier to integrate custom applications and third-party storefronts into PressWise, minimizing the disruption for printers in the creation of a universal workflow.
Supported web-to-print storefronts that are now easily connected into PressWise include PageDNA, PixFizz, Printable, PageFlex, OPS, Red-Tie, Saepio and more.
2) Duplo Integration – a new barcoded process that takes advantage of the CCD scanner on Duplo DC-645 and DC-745 digital color finishing machines, giving PressWise customers the ability to move jobs seamlessly to Duplo finishing machines as part of an automated workflow.
3) Improved multishipping support – including real-time address verification for every address in a multiship order; custom shipping address books for each client; the ability for clients to upload spreadsheets of addresses, and to quote and ship unlimited packages per order.
4) Enhanced Web Storefronts – new features include the ability for end-user customers to build multiple jobs in PressWise and save them for later purchase; enhanced ecommerce security; the ability to generate online orders with a single click from offline pdf quotes generated by salespeople; an improved, dynamic online proofing system and major performance increases in the customer browsing experience.
"We are constantly at work on updating and enhancing our product, responding to customer requests and the evolving demands of the print market," said Tony Tarpey, Marketing Director for SmartSoft. "Integration is increasingly important in the marketplace, and our simple yet powerful APIs give a print service provider the power to unite different applications into a single, universal workflow, leading to a more efficient use of resources and greater ROI on their existing investments."
Datatech SmartSoft will be showing these features and more at booth #751. PressWise can also be found in the Hewlett-Packard booth #3210, where HP will be demonstrating the benefits of implementing an end-to-end print workflow. PressWise will be the workflow engine that drives this demonstration, taking orders from several different storefronts - including PressWise proprietary storefronts - and running them through a single, universal workflow to an Indigo digital press. Each order will then be finished on a Duplo DC-645 digital color finishing machine using the new barcoded workflow process.
To set up a one-on-one demo at the show, visit http://www.presswise.com or call 888.227.7221.
About PressWise
PressWise was designed as an alternative to purchasing independent modules (or custom development) of Web-to-Print, Print Production Workflow Management, Print-Specific MIS, and Mail Preparation Software. Now a single end-to-end system is available with the comprehensive tools needed to streamline print workflow. PressWise includes unlimited Web-to-Print Storefronts, Print Estimating, Order Management, Workflow Automation, Shipping and Fulfillment and optional Mail Processing.
PressWise also provides simple integration tools for third-party applications, including back-end accounting, print MIS and most third-party web storefronts.
Implementation is fast and easy. The system is accessed through a browser and can be used in just a few hours of setup and online training. PressWise is available cloud-hosted or self-hosted, on a SaaS business model with no long-term contracts.
About Datatech SmartSoft, Inc.
Datatech SmartSoft provides workflow software solutions for print automation, data hygiene and postal discounts. Their products include the AccuMail® postal address correction software, the all-in-one address quality and postal presorting solution, SmartAddresser 5™, real-time address validation and keystroke savings software for data entry, AccuMail Verify, and the end-to-end print workflow automation solution, PressWise.
Their customers include general commercial printers, Fortune 500 companies, government agencies, financial institutions, not-for-profit organizations, colleges and universities, major online retailers, national printing franchises, and a whole host of other businesses, large and small. These businesses rely on Datatech SmartSoft to significantly reduce their printing, mailing and fulfillment costs.
Datatech SmartSoft is a privately held company with offices in Agoura, Santa Barbara, Philadelphia and Montreal. Visit http://www.smartsoftusa.com for more information.
# # #