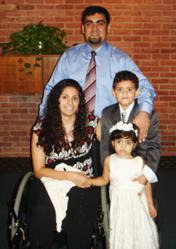 It was a really tough decision for us as a family to actually risk all of our savings and invest them on a start-up business, right at the precise moment that the economy came crashing down
(PRWEB) September 13, 2011
One small Website Design Company in Maryland will be assisting the development of other new businesses in this stagnant economy, proving helpful and effective online solutions to those entrepreneurs that drive the American economy. iLean Solutions was founded by a an eastcoast family during the beginning of the recent economic recession, at the same time that the stock market was falling and banks nationwide were failing. The risk was high, but the payoff has been lucrative for Rodrigo and Giuliana Olivares from Rockville Maryland.
Rod and Giuliana started iLean solutions to help other businesses establish their own unique presence online. They design websites, provide graphic design services, host websites on their servers, and provide online marketing services for their customers. iLean Solutions volunteered website design services for Hollywood actress Patricia Velasquez and her Wayuu Taya Foundation, founded to improve the lives of Latin American indigenous communities in the Venezuela/Columbia border region. The company still helps out the foundation, because they believe in continuing their business relationships.
Giuliana Olivares is wheelchair-bound and has been since age 13. Overcoming that diversity while raising a family gave both her and Rod the strength to start a small business in a failing economy. That same strength gives them the ability to develop strong relationships with their customers, who come from all over the U.S. and abroad. Giuliana says, "we view every customer as a long-term relationship from the moment we meet them. Our goal is to help them grow, so that we can grow with them."
iLean Solutions is a website design company that's available to build an online brand, host websites, give online marketing services, and even provide print advertisements to companies of any size, from one-person operations to Fortune 100 companies.
# # #