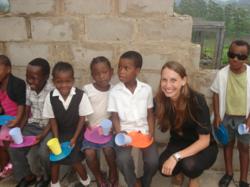 "The future of South Africa will be created by the next generation; right now, our future doctors, leaders, lawyers, and parents are fighting a battle alone against poverty and AIDS," says Angela Larkan.
New York, NY (PRWEB) September 03, 2011
Thanda.org, a non-profit organization dedicated to developing sustainable solutions to providing care for orphans, vulnerable children, HIV/AIDS prevention, and poverty alleviation in Africa, is excited to announce its founder, Angela Larkan, has been selected to be featured in the iconic Levi's® brand's 'Go Forth' campaign. The campaign, a global rally to create positive change in the world today, is showcasing the work of pioneering individuals from across the globe who are tackling the greatest challenges of our time.
Angela is second to take center stage, following Water.org, founded by Hollywood celebrity Matt Damon and social entrepreneur Gary White, to provide access to safe drinking water and sanitation in developing countries.
To highlight Thanda.org, the Levi's® brand will share the story with its 7.2 million strong Facebook fanbase and on its Web sites around the world, and launch a promoted global trend on Twitter. Tweets will generate awareness about Angela's pioneering efforts, driving users around the world to re-tweet her positive message (@AngelaLarkan). The Levi's® brand's support and online program will ultimately help Thanda.org bring food, education and emotional support to 145 children for a full year.
Five years ago a 22 year-old Angela established Thanda.org to fight the destructive impact of HIV/AIDS and poverty on rural communities. There are an estimated 2 million orphans living with HIV/AIDS in South Africa, and this could rise to 5.7 million by 2015. Growing up in Kwa-Zulu Natal, South Africa, Angela witnessed firsthand the hardships and poverty suffered by many young South Africans. Today, Angela's project supports 325 children daily, and she is working to bring hope to thousands more through her model for community change. This inspiring young woman is defining a new approach to ending poverty and HIV/AIDS in rural communities, and developing a new model of orphan care that could be implemented throughout Africa.
Supporting Thanda.org is a natural extension of the Levi's® brand's long-standing commitment to fighting the HIV/AIDS pandemic. Through its pioneering "Red for Life" program, the Levi's® brand is committed to fighting the HIV/AIDS pandemic in South Africa, and has been similarly engaged in other markets around the world, starting in San Francisco in 1982. From creating jeans ethically with the best labour standards in the world, to being on the forefront of HIV/AIDS awareness, Levi's® is devoted to pioneering progress and supporting the modern heroes of our time. Visit http://www.facebook.com/Levis or http://www.thanda.org.
###