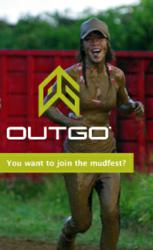 ...when was the last time you played in the mud?
Bellingham, WA (PRWEB) September 02, 2011
Ready to get a little muddy? Outgo™, the personal care brand launched by McNett®, is pleased to announce the Mud Run Sweepstakes for the month of September. The sweepstakes is open to all. Simply visit http://www.facebook.com/outgo.mcnett, click on the "Mud Run Sweepstakes" link and provide a name and email address. The Grand Prize winner will receive two entries into any Mud Run plus two Outgo XL Microfiber Towels and two 3 oz. containers of Outgo Waterless Wash to clean up after the race.
"With the summer winding down, now is the time to head outside and get a little dirty," said Cheriss Faiola, community development specialist at McNett. "Mud Runs are a great way to get in shape while having some fun. Besides, when was the last time you played in the mud?"
The Mud Run Sweepstakes runs the entire month of September. Prizes will also be awarded to two second place winners and five third place winners. Second place winners receive one Outgo XL Microfiber Towel and one 3 oz. container of Outgo Waterless Wash. Third place winners receive one Outgo XL Microfiber Towel.
Outgo (http://www.out-go.com/) personal care products are designed for life on the move. Originally designed for the military as tactical gear, these products have become increasingly popular with service members and are now available to the general public as "Outgo." Included in the product line are an Ultra Compact Microfiber Towel available in nine assorted colors, a new Microfiber Microterry Towel, Waterless Wash, Microterry Washcloth Kit, Z-Mask Sleep Shield and Smart Suds, which is designed to clean gear, clothes, hands and dishes.
"Outgo products allow you to stay clean, dry and warm when you're on the go or out running dirty races," said Faiola. "And after a long day of splashing around in the mud, the Outgo personal care line will be there to get you clean and refreshed."
For more information or to enter the sweepstakes, please visit: http://www.facebook.com/outgo.mcnett
About McNett Corporation
For 30 years, McNett Corporation has manufactured and marketed the finest specialty products for the outdoor, sporting goods and military markets. The company's products are known worldwide by consumers and original equipment manufacturers. McNett brands are available in over 70 countries and include: Outgo™, Aquamira®, Camo Form®, Aquaseal®, Seam Grip® and Freesole®. For more information see our website at http://www.McNett.com.
For more information about Outgo personal care products, please visit out-go.com. You can also find us on Facebook and follow us on Twitter @TriggerReady and @WildernessReady.
Contact:
David Wiggs
Marketing VP
360-671-2227
###