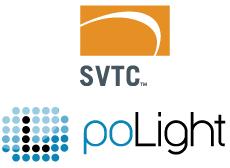 This partnership demonstrates our commitment to innovation in the MEMS segment and allows poLight to focus on their core competencies
Horton, Norway (PRWEB) September 06, 2011
poLight, the world leader in reflowable autofocus actuated lenses, today announced that it has entered a partnership agreement with SVTC Technologies, the leading development and manufacturing services provider for new, emerging silicon-based technologies in areas such as novel transistors, microfluidics, MEMS, photovoltaics and other nanotechnologies. This agreement will enable poLight to reach an optimized production process in order to meet large volume customer demand.
poLight's TLens (Tunable Lens) offers camera module makers next generation actuators based on an innovative patented optical polymer technology that will continue to improve performance while driving the overall cost further down.
poLight TLens products can easily be integrated into low- to high-end camera modules, both barrel and cube, aimed for the Mobile Phone Industry. poLight's technology brings superior key features compared to the traditional VCM (Voice Coil Motor) solutions. With its low foot print (less than 3,0 x 3,0 mm), very low power consumption (reducing by half the camera module system power consumption) and extremely high speed (<1ms), allowing AF algorithms to create Instant Focus for video and picture capture, the TLens can also sustain reflowable production (260°C heat resistant).
Considering high resolution barrel type camera modules of 8Mp to 12Mp in a 1/3" optical format, poLight TLens can enable thinner cameras versus traditional VCM actuators. poLight is ideally positioned to enable the challenging reduction of phone thickness while maintaining high image quality.
Access to SVTC's 95,000 square feet of IP-secure, 24/7 cleanroom and multi-disciplined engineering team will enable poLight to accelerate the commercialization of their next generation TLens technology. SVTC's Technology Development Process and commercialization expertise will enable poLight to demonstrate a production ready process and successfully transfer to a larger volume MEMS manufacturer.
Christian Dupont, poLight's CEO, said, "I am very pleased to have signed this agreement with SVTC Technologies which is securing the move of poLight technology to a large volume production stage. This is an important milestone for poLight that will allow us to benefit from SVTC's experience in semiconductor process optimization for large volume production. SVTC's dedicated process engineering team, and highly equipped 8" and 12" wafer fab, will definitely ease our migration to larger volume MEMS manufacturers," added Christian.
"SVTC Technologies is excited and ready to execute on this partnership with poLight. This partnership demonstrates our commitment to innovation in the MEMS segment and allows poLight to focus on their core competencies," said Bert Bruggeman, CEO of SVTC. "We are confident that SVTC's commercialization process will successfully accelerate poLight's next generation actuator time to market by developing a production ready process that can seamlessly be transferred to high volume manufacturing to meet the strong demand from their customers."
About poLight
poLight is developing micro-optics components. Its patented proprietary technology enables the production of reflowable and wafer scale active optical components based on deformable polymers. Originating from a spin-off from Ignis, poLight received, during 2009, investments from Viking Venture III AS, Alliance Venture Polaris AS, Sintef Venture III AS, Ignis ASA and more recently from Investinor AS, in 2011. poLight's main objective is to lead the mobile phone camera module market with the world's smallest and most cost-efficient autofocus reflowable lens. poLight is based in Horten, south of Oslo, Norway. For more information, visit http://www.polight.com.
About SVTC
SVTC Technologies provides development and commercialization services for innovative semiconductor process-based technologies and products, cost effectively and in an IP-secure manner. Through facilities in San Jose, California and Austin, Texas, SVTC serves customers in rapidly growing markets such as MEMS, microfluidics, high voltage, and TSV that are used in a wide array of industries such as life science, semiconductor, aerospace & defense, consumer mobility and clean energy. SVTC offers a suite of leading-edge equipment and services, including full-scale 8-inch and 12-inch process capabilities, advanced CMOS and non-CMOS equipment, analytical services, development support tools and commercialization services. SVTC is ISO 9001, ISO 13485 and ITAR registered. SVTC's investors include Oak Hill Capital Partners, Tallwood Venture Capital and the company's management and employees. SVTC is an equal opportunity employer. More information can be found at http://www.svtc.com.
poLight AS, the poLight logo and poLight product names are trademarks or registered trademarks of poLight AS.
Global Media Contacts
poLight AS
Nathalie Combrousse
press(at)polight(dot)com
Tel: +33 (0) 6 10 64 28 61
Fax: +33 (0) 4 72 91 30 30
SVTC Technologies
Rich Brossart
rich(dot)brossart(dot)svtc(dot)com
Tel: +408.240.7252
###