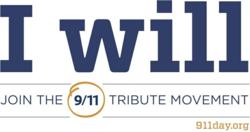 Winchester, Virginia (PRWEB) September 06, 2011
Sunday, September 11, 2011, will commemorate the tenth anniversary of the tragic incidents which impacted the nation in 2001. Area groups are uniting to honor the 9.11 victims, survivors and heroes who responded to assist citizens on that day. Opportunities to Remember, Honor and Serve the local community on September 11, 2011 will begin at 8:30 am in front of the Old County Courthouse on the Old Town Pedestrian Mall. Beginning with a Presentation of Colors by Winchester Fire and Rescue Color Guard, events will take place until 1:00pm throughout the downtown area. A minute of silence at 8:45 will precede a bell tribute to mark the times of impact on the morning of September 11, 2001. Downtown church bells will ring at 8:46, 9:03, 9:37 and 10:17 am.
Immediately following the initial bell tribute, letters of remembrance and appreciation will be created and for local fire, rescue and law enforcement. A '9/11 Community Honor Walk' will begin at 9:11 am. Registration, on the Old County Courthouse Lawn, will be open until 1:00 pm for participation. The walk will take participants on a tour through downtown, recognizing area offices for Winchester's fire, rescue and law enforcement. A small American flag or flower will be left by participants in honor of those who serve their community every day.
A service project will begin at 9:30 am and end at 1:00 pm, at Timbrook Park and Timbrook House. Volunteers are needed to help spruce up the exterior of this community anchor. Participants are encouraged to bring work gloves. At the same location, the Volunteer Action Center of Our Health will share information about local volunteer opportunities and encourage 'I WILL' statements be collected to initiate a positive impact in community service for the area.
Interested participants can visit http://www.ourhealthva.org or http://www.su.edu for more information.
###