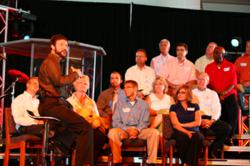 "We are ordinary Christians called on to do extraordinary things to have a city-wide impact on Cincinnati."
Cincinnati, OH (PRWEB) September 08, 2011
A popular hymn based on a Bible passage (John 13:35) says they'll know we are Christians by our love. The Cincinnati business community is banding together to express that love for others and pray for the city in order to end systemic poverty and achieve full employment.
More than 300 Cincinnati Christians heard the call from author and speaker Ed Silvoso to engage in local At Work on Purpose community initiatives to help transform Cincinnati into a city free of intractable challenges—from corruption to systemic poverty-- at the Aug. 27 "Transform Our World" event at Montgomery Community Church.
The conference was sponsored by At Work on Purpose, the Mason-based nonprofit helping Christians connect their faith and work lives. AWOP, with more than 5,000 members, is the nation's largest city-wide, marketplace ministry.
Local ministers and Christian marketplace workers from business, government and education were urged to join six community initiatives—which include praying for each of Cincinnati's 52 neighborhoods—in order to bless the city and lay a spiritual foundation for city-wide ministry initiatives.
Silvoso, a world-renowned speaker and best-selling author of books on prayer evangelism and marketplace ministry, told the crowd that many more ministers of Christ are found at work than are found in a pulpit on Sundays.
"Jesus said we are called to disciple nations, not just individuals," he said. "You must step up and say, 'I will listen to the Holy Spirit.' Trust in God in everything, and God will come through. We need to trust God for more things."
Silvoso is founder and CEO of Harvest Evangelism, which is currently involved in more than 300 cities on six continents. He last visited Cincinnati in February of 2011. He said the marketplace-- which is made up of education, business and government-- must be re-claimed spiritually. Once hearts are changed, then true progress on social problems can begin.
"Let the Lord change our paradigm," he said. "The Gospel is good news for all aspects of life… If we want to see what we have never seen, we need to do what we have never done before.
"Cincinnati has been in our hearts, and some (church) leaders here have been working for many years and saw what we (at Harvest Evangelism and Transform Our World) have been doing. Could it be that Cincinnati may be the point of integration for the U.S. to be transformed?" Silvoso asked.
Silvoso also said that eliminating systemic poverty is one of the indicators that a city has been transformed, because in the early church, Christ's disciples were so fully integrated with the community that there was virtually no poverty. He said once a city is proclaimed for Christ, amazing things begin to happen. He cited Newark, New Jersey as a recent Transform Our World success in progress.
A few years ago, Silvoso said, Newark was the murder capital of the nation. Local leaders there, with the help of Silvoso and Harvest Evangelism, implemented an Adopt-A-Street prayer initiative, in which each of the city's 797 streets was prayed for. Over a period of several years concurrent with the prayer initiative, crime went down 80 percent, Panasonic selected Newark as its international headquarters, and Mark Zuckerberg, founder of Facebook, donated $100 million to Newark Public Schools.
AWOP, which sponsored the Cincinnati event, has been working with Transform Our World and AWOP leaders to develop six initiatives to transform Cincinnati and help spur economic development.
Silvoso and AWOP president Chuck Proudfit unveiled a "Pray4Cincinnati" initiative, an Adopt-A-Street program taken from Silvoso's Transform Our World organization in which people register to pray for a city street by street, empowering individuals to make ethical decisions based on biblical principles and work for positive economic change.
"This city has been so pressed on all sides with economic adversity, government dysfunction and social injustice," said Proudfit. "We need to pray for Cincinnati. We are ordinary Christians called on to do extraordinary things to have a city-wide impact on Cincinnati."
John McCarthy, CEO of AGI Management, attested to the power of prayer in helping his business thrive. He said the results of prayer "are not fluffy."
"We are going to cover the city with a canopy of prayer," he said. "This is going to be a campaign of change unlike the city has ever seen."
Paula Brussard, president of Jeremiah Summit Group in Milford, said Pray4Cincinnati was not a single event, but an ongoing undertaking to spiritually equip the marketplace. She said the committee is calling on leadership in Cincinnati's 52 neighborhoods to identify needs and attempt to address them.
Dan Busken, president of Busken Bakery, Inc., John Hartz, owner of Hartz Sealcoating and Terry Grear, president of Grear & Company, head the "Marketplace Evangelism Ministry" initiative, which will help Christian business leaders become ministers of Christ in the marketplace.
"I spent a number of years studying to be a CPA," said Grear. "And I thought, 'what have I done about salvation?'"
Danise DiStasi of Style4You will head a "Women at Work" initiative to help women better integrate their faith and work lives. "Everything we do is integrated in our world," DiStasi said about women in business. "It's okay to be relational at work because we were created to be relational."
Greg Orcutt, owner of Orcutt and Co. CPAs, Ltd., of Milford, Ohio, will work for building bridges between churches and the marketplace that allow them to operate more seamlessly. Orcutt, an elder at Parkside Christian Church, said he would like to build a whole army of workplace leaders in local churches, and envisions a monthly fellowship meeting to develop training and collaboration skills.
The Rev. Arlan Howard, executive minister at Mt. Carmel Christian Church, and the Rev. Tom Livesay, pastor at Montgomery Community Church, will work on helping church ministers get out into communities to embrace community need.
"Most people are not going to church, but many people go to work," said Livesay. "To quote the Rev. Silvoso, 'we are going to win the world not by the church, but by the church in the marketplace.'"
The Rev. Jeff Greer, pastor at Grace Chapel in Mason, who has a passion to help eliminate systemic poverty, helped create an organization called Self-Sustaining Enterprises(SSE), which has created BizNistries, businesses that dedicate excess profits to ministry needs in order to help people with a hand up, not just a hand out.
SSE operates Nigeria H20, a freshwater drilling project in Jos, Nigeria; two New2You thrift stores; Roc-A-Fellas Pizza in Sharonville; All4You Apparel screen printing and promotional products; and an aquaponics project designed to provide fresh fish and produce commercially as well as for the needy. SSE also partners with Back2Back Ministries, providing orphan and widow care in Mexico, Nigeria and India.
"We've got to throw Plato out of the church," said Greer. "There is no secular/sacred divide. There is only that which is sacred or sinful.
"We must offer our expertise and do more than just sympathize with people during tough times; we are trying to offer solutions and partner with them such that we are a blessing to them."
Proudfit said while Cincinnati has a nine percent local unemployment rate, national Gallup studies indicate that 71 percent of workers are disengaged at work, which means that 80 percent of workers in Cincinnati suffer from under- or un-employment.
Bob Pautke of SOAR Consultancy, said we need to go to war with dis-engagement at work. "One solution is purpose," he said. "How do we help folks from junior high to retirement? We need to counsel them. Viktor Frankl said many people ask, 'what can I get from life?' when the real question should be, "what does life expect from me?'"
Pautke said the key to his "Full Employment" initiative will be to help people act purposefully with the talents they take to the marketplace.
Jackie Messersmith, partner at Talent Management, LLC, said 83 percent of a company's expenses are employee-related expenses, and if 80 percent of workers are not satisfied with their work, what can you do about that as a business owner?
She and Allan Payne, president of Talent Management, LLC, are developing a talent optimization process to help companies select the right person for a job; align that person correctly in the company; develop their talents so they can be effective and help the company thrive; and then retain good employees.
Preston Bowles, COO at SkillSource business consultancy in Mason and Blue Ash, said Cincinnati ranks as one of the nation's top 10 most impoverished cities. A quarter of Cincinnatians live below the poverty line, according to U.S. government data, he said. He, Chuck Futel of Chuck Futel and Associates, Sherman Bradley of City Gospel Mission and Keith Kuhnell of Dempsey and Siders Agency, head the committee to address systemic poverty in Cincinnati.
"Our need is real," Bowles said. "We don't need to travel to a far-off country. Poverty is in our neighborhoods and community."
Futel said a lot of people who are poor tend to stay poor. Even professional athletes and actors who make great sums of money often eventually lose it. "The key is stewardship," he said. "Regardless of your income, you need to steward what you have. Poverty is a spirit, and we have to attack poverty on a spiritual level."
"Can you imagine what it would be worth to the city and the nation if all these things came to pass?" Proudfit asked the crowd. "If we all step forward in a significant way, and these initiatives are replicated across church homes all over the country, we can make a huge impact."
Lynne Ruhl, president of Perfect 10 Corporate Cultures of Fairfield, and Ron Touby of Priority Associates of Mason, head the AWOP volunteer network. When an AWOP member or potential new member contacts AWOP, Ruhl and Touby connect that person with the appropriate AWOP committee, organization or ministry.
Silvoso addressed the national and global financial crises as economic-- not financial-- problems that stem from corrupt people and the allowance of corrupt practices in institutions.
"I don't pray for a resolution of the crises," he said. "I pray for a speedy funeral. Populism is destroying Europe and South America, but Jesus Christ can take care of poverty and the salvation of the lost.
"Pain is there," he added. "The pain of the rich is as bad as the pain of the poor. The poor can delude themselves that a million dollars would make things better, but the rich know that one more million will not make things better.
"Many of us are successful at what we do," said Silvoso, "but are we full of the Holy Spirit? It is up to you whether transformation can happen here. God can multiply anything but zero."
For information about AWOP programs or to get involved in one of the six community initiatives, visit http://www.atworkonpurpose.org or call (800) 513-9580.
###