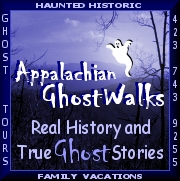 "Appalachian GhostWalks' new Haunted Gatlinburg Ghost Tour is an absolutely SPOOK-tacular fall season experience you have to experience to believe!"
(PRWEB) September 05, 2011
Appalachian GhostWalks Gatlinburg Tennessee ghost and history tours make for great fall season vacations and peaceful mountain getaways with fun for the entire family!
Nominated "Best Tennessee History Tours" by "Official Best Of," Appalachian GhostWalks Haunted Gatlinburg Ghost Tours include fourteen different locations throughout the Northeast Tennessee and Southwest Virginia region of Southern Appalachia. Tours are lantern-led by professionally Certified Ghost Hunters who recount real history and all-original, true, spine-tingling ghost stories from the Great Smoky Mountains and surrounding region.
Appalachian GhostWalks' Appalachian GhostWalks Gatlinburg Ghost Tours began on Thursday, September 1st, 2011 and are now offered nightly, year-round. Smoky Mountain residents and vacationing guests may combine this tour with any of several other vacation activities in the Smokies to include visits to both haunted and historic caves, mansions, and other historic sites throughout our region. Appalachian GhostWalks travel packages feature a wide variety of East Tennessee interests to include both day and night time activities to keep you and your travel companions enchanted and entertained throughout your stay.
Appalachian GhostWalks "Spook and Save" Haunted Gatlinburg and Smoky Mountain adventures and tour packages offer the best for less. Several ghost tours and haunted themed vacation packages combine tour experiences with local area camping, rafting, caving, bicycle or horseback riding, gem mining, carriage rides, area museums, water parks, skiing, plays, and more. Enjoy the best food with a great casual or fine dining restaurant each night with transportation to and from every point of interest with Appalachian GhostWalks' fully planned haunted family vacation itineraries.
Appalachian GhostWalks' Haunted Gatlinburg and East Tennessee Ghost Tours are child friendly and appropriate for families with children ages five and up. These Smoky Mountain ghost and history tours are historically accurate, educational, and entertaining with each offering a small piece of a larger puzzle of Southern Appalachian history from Southern Highlands of East Tennessee.
Come explore and experience America's First Western Frontier in Gatlinburg and the Smoky Mountains and enjoy cool mountain breezes as well as the quiet culture and heritage of what was once called the "Land of Paradise" by our earliest frontier settlers. Take in peaceful serenity while staying in luxuriously restored historic inns, bed and breakfasts, and great hotels. Travelers might even choose one of many beautiful Gatlinburg Cabins, or one of several great Smoky Mountain campgrounds for a totally chilling outdoor adventure.
Appalachian GhostWalks Haunted Gatlinburg Ghost Tours even offers campfire presentations for large and small groups. Whether celebrating with friends, family, or business associates, a spine-tingling story around a campfire never fails to satisfy those longings for the thrill of the unknown.
When thinking of getting away from the routine, Appalachian GhostWalks Haunted Gatlinburg Ghost Tours offer a variety of vacations and tour packages to include weekend getaways, family vacations, honeymoons, holiday gatherings and birthday parties! Whatever the occasion, guests receive complimentary, all-inclusive vacation planning to make preparing for that dream retreat a snap. So sit back relax and let your haunted Gatlinburg, or haunted Smoky Mountain vacation come to life with very little effort as one call does it all.
Appalachian GhostWalks Haunted Gatlinburg Tennessee Ghost Tours invites you to come explore and experience the mystery, heritage, intrigue, and haunts of the Smoky Mountains with real history and true ghost stories from all across the East Tennessee and Southwest Virginia.
For additional information or reservations about Appalachian GhostWalks' Haunted Gatilnburg Ghost Tours, Historic Gatlinburg History Tours, or any of several fun family Smoky Mountain haunted themed vacation packages, please visit the Gatlinburg GhostWalks website online at http://www.GatlinburgGhostTours.com or call (423) 743-WALK (9255).
###