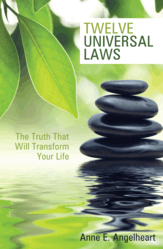 With clarity and precision, it illuminates 12 universal laws for awakened living. These every day universal principles will help seekers to ask their own questions and to find their own answers necessary for a mindful life.
Yuba City, CA (PRWEB) September 20, 2011
"Twelve Universal Laws: The Truth That Will Transform Your Life," a new booklet by Rev. Anne Angelheart, reveals the power of the universe in a concise and practical way with relatable examples and exercises which enable readers to make profound changes in their lives.
Rev. Anne Angelheart has created "Twelve Universal Laws: The Truth That Will Transform Your Life" to help people understand the way the universe's laws impact the way we think, act, and react in the world.
Anne shares, "It is my passion to teach others and to see them grow and become unlimited in life. My mission is to show how we are all connected and how you simply need to change your consciousness to achieve. Each unique individual has the ability to hear and feel their own inner voice. This shift of awareness within empowers people to make conscious choices that contribute to the greater good of the planet around them."
Instead of these Universal Laws being a secret, readers of the 100-page "Twelve Universal Laws: The Truth That Will Transform Your Life" will find out how the universe works. Readers will learn how to live the life they want and deserve by flowing with the universe.
Rev. Anne Angelheart is a well-known healer and workshop facilitator and has been working professionally for 22 years in her field. Anne has worked with many different teachers in parapsychology, Shamanism, Ascension work and has added her own unique techniques of working with the public. Those teachers have included well-known psychic police officer, Judy Bell, and Sanaya Ramon (Orin). She has studied under Rev William Wiltshire for 12 years on learning, walking and teaching Universal Law.
Twelve Universal Laws: The Truth That Will Transform Your Life
Paperback: 96 pages
Publisher: Balboa Press (July 29, 2011)
ISBN-10: 145253697X
ISBN-13: 978-1452536972
Product Dimensions: 9 x 6 x 0.2 inches
http://www.12universallaws.com
For additional information, please contact:
Anne Angelheart
(530) 755-4767
info(at)12universallaws(dot)com
media(at)anneangelheart(dot)com
# # #