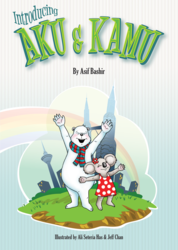 "Parents have the most important and enduring relationship with their children and are key partners in their child's learning."
(PRWEB UK) 7 September 2011
West Midlands-based Asian-e is celebrating their international success in the children's book market with the launch of digital apps for the iphone, ipad and Nokia phones.
The company, who produce the Aku and Kamu educational books which sell in shops across the UK, Middle East and South East Asia, are breaking into the digital market after the overwhelming success of the hardback stories and the impact they're having on children's development throughout the world.
The apps encompass lovable Polar Bear and Koala Bear characters from the Arctic Circle and Australia to tell fascinating tales of their misadventures, as they end up miles away from their respective homes and their families in Malaysia. The stories convey key aspects of the Every Child Matters framework including being healthy, staying safe, achieving in life and making a positive contribution to society.
As well as being educational, they also help to develop children's communication, creative and interpersonal skills, interacting with teachers, parents and guardians as they learn through fun. Key features include personalised screens, interactive animation, and a feature to record your own narration. The launch of the mobile apps not only revolutionises the possibilities when reading a book, but also demonstrates how technological advances can assist in children's learning development.
Creator of Aku & Kamu and Director of Asian-e Asif Bashir tells us more:
The applications help to address literacy rates through the built in audio narration feature. This provides the ability for parents, teachers and readers to record their own voice whilst reading each page and then listening to the book in their own or familiar voice. Soon children all over the world will be reading and learning about Malaysia and indeed Malaysia's first Polar Bear and Koala Bear!"
The development of the applications demonstrates the company's commitment and drive to using innovative tools and technologies to help children learn and the concept behind the technology is never far from the news. Recently, a BBC report suggested that parents should read and interact with their children for 15 minutes a day to enable them to reach their full potential, and the launch of the mobile apps to compliment the hardcover books is Asian-e's way to ensure that the next generation are getting the best possible start in life.
As well as the mobile apps, Asian-e are also staying ahead of the trends by launching a 'Being Healthy' book next month to promote good eating habits and educate youngsters on food. As the concerns about child obesity and Type 2 Diabetes grow, Asif has enlisted the help of Senior Registered Dietician Tahira Bashir to launch the series, as she explains:
"Parents have the most important and enduring relationship with their children and are key partners in their child's learning. With Aku and Kamu, we have blended learning with creativity to create two unique, lovable characters which we hope children will learn to love, whilst reinforcing key messages such as meals of the day, portion size, five a day, fat and sugar consumption and the importance of an active lifestyle."
Born in Birmingham, Asif has always had a strong appetite for enterprise and launched Asian-e as a global brand back in 2001 with one clear goal – to make learning more fun, exiting and appealing to children, engaging and captivating their minds.
Ends.
Asif Bashir is available for print and broadcast interviews. For more information or to arrange a time for an interview, please contact:
Asif Bashir
0121 698 8524 / 07976 282 585
asif(dot)bashir(at)asian-e(dot)co(dot)uk
Notes for Editors.

There are twelve books in the series, of which the first six have been completed, covering a range of key topics. Each is written with a simple premise, to make children smile and thus make learning a fun experience.
The link to the BBC News story cited in the press release can be found here: http://www.bbc.co.uk/news/uk-14403919
Further background information on Asian-e can be found at http://www.asian-e.co.uk
###