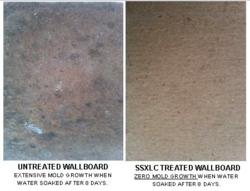 Paying forward to help those in need.
Northern, Central and Southern New Jersey (PRWEB) September 06, 2011
Preventing mold and mildew from damaging homes or businesses doesn't have to cost a fortune. SmartTouch Sanitizing® has lowered pricing by up to 50% to help homeowners and businesses suffering from flood damages caused by Hurricane Irene.
SmartTouch Sanitizing provides simple solutions to prevent mold and odors. Rain and flood waters from storms like Hurricane Irene can cause damaging mold and mildew long after the water is gone. Odors from stagnant water can contain toxins which cause asthma and allergies. SmartTouch Sanitizing® products and services prevent odors and mold from forming as surfaces dry and continually year after year.*
Although it does a good job of bleaching the stains caused by black mold, bleach does not kill mold. Mold will return, as it always does, when the bleaching effect is exhausted. Smart Touch Sanitizing® provides a very safe, oxidizing solution that kills mold spores with no toxic chemicals.
Odors caused by floods can trigger allergies and asthma. Smart Touch Sanitizing® safe disinfectant products oxidize odors safely and without masking agents or fragrances.
Earth friendly mold cure and odor eliminating products have been used to cure mold and odor issues in a multitude of homes and businesses some of which include water damage at CBS Sports Network in NYC, sewerage spills at Newark Airport and to decontaminate the home of an animal hoarder in Clifton NJ. SmartTouch products have been used to clean mold and cure mold issues caused by Hurricane Katrina.
Choose a mold preventive kit which can be applied with any pump-type garden sprayer or a professionally applied service, this exclusive spray process guarantees complete coverage of all exposed surfaces and provides an extended warrantee.*
SmartShield XLC™ is a water based surface protectant which prevents the formation and growth of odor or staining causing mold, mildew, fungus and bacteria. Once applied, SmartShield XLC™ provides complete surface protection destroying mold spores before they can reproduce. SmartShield XLC™ does not wash off under normal use and creates an invisible barrier that keeps on working long after the water is gone.
Hurricane Irene flood victims can rquest more information by calling Toll Free at 866-863-4107 Ext 2.

Mold Remediation and Waterproofing Contractors Inquiries Welcome.
###