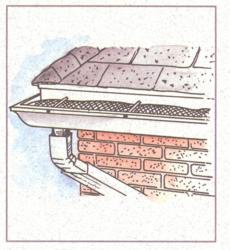 Keep your rain gutters clean
Biddeford, ME (PRWEB) September 05, 2011
Parts of New England experienced rainfall amounts of 11" and upwards. Considering that 1"of rainfall equals 27,000 gallons of water per acre, some areas received more than a quarter million gallons of rainfall per acre. That's a huge amount of water!
While there's not much that can be done for basements in a flooded zone, homeowners in other areas can still help prevent ground and surface water from becoming a problem. B-Dry System of Maine and New Hampshire, a three decade old basement waterproofing company has some recommendations to help avoid basement water problems.
Start by keeping your rain gutters clear of leaves. Extend the gutter downspouts away from the home to helps protect the vulnerable loose soil next to the basement walls.
Some other things home owners can do to prevent basement leakage include correcting any surface water problems by re-contouring the yard to direct surface water away from the home and basement. The more water you can steer away from your home, the less water your drain tiles and waterproofing system needs to handle.
Protect your basement windows with window wells and clear plastic covers to prevent window leaks. If you rely on a sump pump to keep your basement dry, consider getting a battery backup unit, a power inverter or automatic generator to provide uninterrupted service during a power outage. Being that power outages caused by Hurricane Irene are still widespread up the whole east coast, this is extremely useful advice.
With nearly 3 months left in the 2011 Hurricane Season, homeowners can take steps to limit the damage to their homes. More free help is available for homeowners by using the Wet Basement Analyzer Tool available at http://www.b-dry.com. This is a self-help and user-friendly web application that takes homeowners through a step-by-step process of identifying and solving the causes of their wet basement problems.
B-Dry System of Maine and New Hampshire is an Independent Licensee of B-Dry System, Inc. Independent Licensees and franchisees of B-Dry System, Inc. offer professional basement waterproofing services throughout the New England states and many other cities nationwide.
# # #