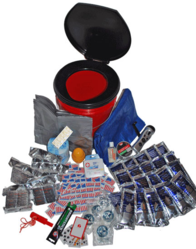 Janesville, Wisconsin (PRWEB) September 06, 2011
School shootings, weather emergencies and other disasters often trigger local public and private schools to lockdown their students and teachers, sometimes for hours. When these events occur, most schools today are woefully unprepared. This prompted survivaltools-equipment.com to announce its new Classroom Lockdown Survival Kit.
When an emergency arises, having an emergency survival kit is essential and it is impractical to have individual students provide their own disaster kits. Schools have the responsibility to ensure the health and safety of its students, teachers and staff. These new preparedness survival kits offers a single, compact kit that provides 30 people food, water, light, communications, tools, first aid and more.
The new Classroom Lockdown Survival Kit is stored in its own bright red 5 gallon bucket with toilet seat lid and includes everything you need to survive an emergency situation. All of the quality products have a long shelf life, providing you with security and economy. The design team followed the advice of experts in the field of emergency management while creating this affordable emergency survival kit. They closely followed the guidelines of both government and non-profit agencies to create the perfect classroom solution.
When a disaster strikes, how will you provide for the well-being of your students and teachers? When confined to a single room for hours, disaster kits are essential in every school. Even nearby construction accidents, like a broken natural gas line, can trigger a lockdown event. Don't be caught unprepared. Every school should have a Deluxe Classroom Lockdown Survival Kit in every room. Don't wait until it's too late. Prepare for the next emergency today.
It would be unimaginable for a school to not have smoke alarms or fire extinguishers. Parents need to be just as concerned if there are not preparedness survival kits in every room at their child's school. All the basic and essential items needed to survive a lockdown in one convenient container. The VIP Global Enterprise Deluxe Classroom Lockdown Kit is complete, compact and affordable. Make sure there is one in your child's school room today. disaster kits save lives, order yours today.
about: http://www.survivaltools-equipment.com
Vicki Pabst
608-563-1044
email: survivalkits2011(at)aol(dot)com
# # #