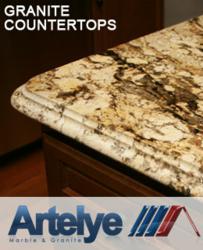 I purchased granite countertops for my kitchen 14 years ago from another local company, but now the craftsmanship from Artelye far exceeded what the local company provided in my kitchen
(PRWEB) September 05, 2011
Artelye Marble & Granite of Beltsville will soon be featured on a nationally televised episode of an award winning home improvement show. To celebrate that honor, they are launching a huge granite countertops remnant sale on September 6th to open the holiday season. Homeowners and business owners wanting to add luxurious granite, marble or engineered stone to their kitchens, bathroom, or office spaces, can visit their main warehouse to begin saving.
Artelye Marble & Granite was founded 14 years ago and is committed to striving for "green" business operation practices and exploring new materials and environmentally friendly products. They travel the world to hand select the best stone from South America, Asia, Europe, and the Middle East. Their inventory has over 2000 slabs on-site and they maintain positive relationships with wholesalers in order to give their customers the most competitive prices for doing their kitchen tops, powder vanities, bar tops, small coffee tables, single countertops and much more.
The remnant sale will provide customers an opportunity to choose smaller pieces of stone to supplement or replace their current countertop configurations. One customer who recently used Artelye's services said, "I purchased granite countertops for my kitchen 14 years ago from a local company here in Greensboro, but the craftsmanship from Artelye far exceeded what the local company provided in my kitchen."
Those wishing to celebrate Artelye's television appearance can visit their showroom and warehouse located at 10116 Bacon Drive in Beltsville, Maryland, or call 301-931-6616, or visit their granite countertops in maryland website, to fulfill their countertop dreams.
# # #