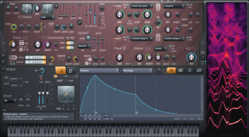 The sound is fantastic, clear, strong and precise!
(PRWEB) September 08, 2011
Over a year in the making and created by the inventor of FL Studio, Didier Dambrin, Image-Line introduces their latest plugin synthesizer - Harmor. Featuring a unique and modern additive synthesis engine that emulates classic subtractive synthesis as well, taking sound generation to the next level.
Additive / subtractive synthesis engine, generating sounds not possible with traditional synthesis methods, including the ability to draw custom filter shapes, and offering precise control over every aspect of the sound conception.
Image and audio resynthesis, allowing a faithful, sampler-quality resynthesis of audio, not a vague sound-alike often met in additive synthesizers. Images too can be imported and turned into sound. Sound creation possibilities are endless, but not bewildering. Stutter, mangle, stretch, pitch and manipulate audio beyond recognition.
Key features include:

Additive engine performing additive & subtractive emulation just as efficiently.
Graphically editable envelopes and articulator mappings for most parameters.
Audio re-synthesis and image synthesis.
Editable filter, resonance and phaser shapes.
Dual filters with serial or parallel mix.
Two independent and identical synthesis parts.
Customizable synthesis module processing order.
Videos
Check the development video series at YouTube and get a taste of what Harmor can do.
TRIAL/DEMO VERSION
Why not download and try the demo version here.
Pricing
Harmor is available for an introductory price of $99 USD and will revert to $149 USD on October 1, after the sale. Get in quick!
Formats
VSTi & FL Studio Native.
About Image Line Software
Established in 1994, Image Line Software provides high quality music applications to the computer-based music community and is well known for its leading digital audio workstation FL Studio (formerly FruityLoops), FL Studio Mobile (for iPod touch, iPhone & iPad), high quality synthesizers including Sytrus, PoiZone,Toxic Biohazard, Morphine, Ogun and Sawer, a mix of innovative Effect plugins like Maximus and Hardcore and range of sample libraries used in their multi-sampler plugins DirectWave and Soundfont Player. In May 2007 Image Line Software released its acclaimed DJ mixing software application Deckadance. In addition to its audio software, Image Line Software develops and distributes the web site building application, EZGenerator.
For more information, please contact:
Scott Fisher, Communications & Marketing Manager
Image Line Software
E-mail: press(at)image-line(dot)com
http://www.image-line.com/documents/news.php
###