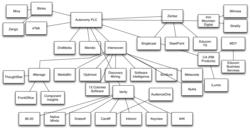 Making the right choice is a challenge.
(PRWEB) September 28, 2011
The Real Story Group has recently released its updated Autonomy family tree chart, showing each individual business that was acquired to form Autonomy as we know it today. Although it may be tempting to focus immediately on Meg Whitman's new role as the CEO of HP, it is much more important to focus long-term attention on what HP is actually buying: an amalgam of products from 30 original companies.
As some document management research subscribers well know, most big ECM companies have grown in a similar fashion, since managing all of the "unstructured data" elements of an organization by definition requires multiple different tools and technologies. It is beyond the reach of any software firm to invent everything itself. They key is to understand how well each component — albeit home grown or acquired — integrates with the others.
When Autonomy sells technology, it talks about the IDOL brand name; OpenText talks about ECM Suite (formerly Livelink). These are all separate products. Just because a pundit says, "the market is consolidating" does not mean that buyers will have fewer choices. Often, as one vendor is acquired by another, many of its products live on under a different name. At the same time, new vendors continually enter the market. Technology buyers are never short of choices; making the right choice is the challenge.
Analyst Alan Pelz-Sharpe from The Real Story Group commented on the wisdom of the HP purchase: "What I will be watching is what their next move will be. How will they unravel all of the applications and gadgets? Ultimately, the people that make up Autonomy will determine the real outcome — good or bad. The only thing of which I am certain is that the market for enterprise technology remains as confused and crowded as ever — and there is no sign of that changing in the foreseeable future."
The Real Story Group is a buyer's advocate for enterprises looking to buy and use enterprise technologies. Our analysts publish truly independent product evaluations that help technology buyers sort out suitable choices for their organizations' particular needs. The research is well known for its technical depth, critical content, readability, and absolute neutrality.
###