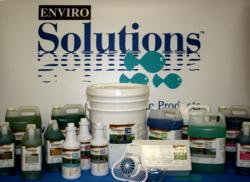 It has just been in the past few years [that] bio cleaners have been used effectively in professional cleaning.
(PRWEB) September 20, 2011
In preparation for the ISSA/INTERCLEAN® North America tradeshow in Las Vegas Oct. 18–21, 2011, Enviro-Solutions announces it will be placing greater emphasis on its proven-Green bio and bio-enzymatic cleaning products.
Based in Ontario, Canada, Enviro-Solutions has been manufacturing Green cleaning chemicals for nearly 20 years.
Bio-cleaners are typically made of sustainable, natural ingredients that are safe, helping to protect human health and the environment.
Bio-enzymatic cleaners, a type of bio-cleaner, are specifically formulated with bacteria and enzymes to "digest" soils and organic waste safely and economically. The goal is to leave a deeper level of clean and odor control.
Further, under proper conditions they can clean up to 80 hours after application helping to eliminate soils and odor causing bacteria deeply embedded in hard-to-reach areas such as grout and tile.
"Bio cleaners are not new," says Mike Sawchuk, vice president and General Manager for Enviro-Solutions. "They were first discovered about 100 years ago. However, it has just been in the past few years [that] they have been used effectively in professional cleaning and just recently that some are Green certified."
For a cleaning product to be Green certified, it must be tested and evaluated by an independent third party to meet specific parameters established by leading certification organizations. If certified, this verifies that it has a reduced impact on human health and the environment.
All of Enviro-Solutions' bio-enzymatic cleaners are Green certified by EcoLogo™, a principal certification organizations in the professional cleaning industry, and soon to be registered, along with its other bio-cleaners, by the USDA Bio-Preferred Program.*
Sawchuk says the company's selection of bio-enzymatic and bio-cleaners will be on display at the company's ISSA booth #3522 along with advisors from the company discussing the use and application of the products.
*The USDA Bio-preferred program is a Federal program designed to promote the increased purchase and use of biobased product.
# # #