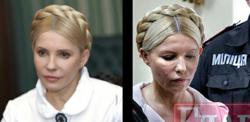 Yulia Tymoshenko's health has taken a turn for the worse.
(PRWEB) September 06, 2011
Yulia Tymoshenko's staff confirms to Democracy4us.org, that as the new picture taken by Glavred Magazine illustrates, Tymoshenko has appeared paler and more peaked to them since spending a month in prison. This claim supports Mrs. Tymoshenko's recent reports that that she is not in good health.
Tymoshenko's Lawyer Sergiy Vlasenko says that the sheer stress of tolerating more than nine hours of court every day and the conditions of the Ukrainian jail likely plays a major part in her overall health. Today, Tymoshenko insisted that Judge Rodion Kiriyev, who has pressed forward with the trial at lightning speed, going so far as to prohibit lunch breaks as of late, slow the the proceedings down, in order to give her time to prepare her defense. She pointed out that it was not only her, but lawyers for the defense and the prosecution alike, many absentee in court today, who had trouble keeping up with the pace. Kiriyev rejected her plea.
In addition, Mrs. Tymoshenko has also expressed health concerns that go beyond simple fatigue. poisoning She has repeatedly asked the judge to allow her private nurse and doctor to visit her and take blood samples, a request which he has denied repeatedly. Symptoms which she has suffered while incarcerated include exploded capillaries and vomiting. Although no foul play can be confirmed at this point in time, friends and colleagues are increasingly concerned.
Tymoshenko Tymoshenko has been voted one of the most beautiful and vivacious politicians in the world, even being featured on the cover of Elle Magazine.
Several local and international politicians, including EU spokesman Micahael Mann, have made requests to get access to the former PM in the wake of the health concerns. Tymoshenko herself has expressed concern that attempts might be made by President Yanukovich's regime to take her life in order to silence her permanently. When asked if she fears for her safety, Tymoshenko said, " I am aware of the Stalinist saying that you get rid of the man, you get rid of the problem," she commented. "There have been too many 'accidents' in the past."
Foreign ambassadors and watchdog organizations, as well as local supporters, are afraid that, following the likely conviction of Mrs.Tymoshenko, President Yanuvovykch may try and silence her permanently, potentially utilizing poisons, which have significantly been used in regional politics against opponents.
The most famous examples of such poisoning are those of former President Viktor Yushchenko, whose appearance and health was significantly damaged from ingesting dioxin, and former Russian spy Alexander Litvienko, who suffered a long death in London from polunium contamination.
The former pm issued a statement this summer, before being detained, that, under no circumstances, would she kill herself, in the expectation that authorities might say that her demise was self-inflicted. Human rights organizations feel as though Yanukovych may site Tymoshenko's currently deteriorating health to justify an abrupt death behind bars.
Her lawyers have repeatedly said that she is too sick to stand trial and have 17 times requested that she be released on bail, all of which were rejected. Today, Former PACE Monitoring Committee Rapporteur Hanne Severinsen said there are no legal grounds to keep former Prime Minister Yulia Tymoshenko in custody.
###