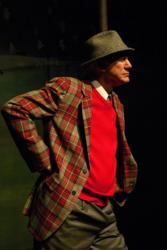 I am proud that Theatre Tuscaloosa is producing the play 'Bear Country,' which truly depicts the greatness of Coach Bryant - UA Athletic Director Mal Moore
Tuscaloosa, AL (PRWEB) September 06, 2011
Theatre Tuscaloosa will present an original production of "Bear Country" by Michael Vigilant for the first time in Tuscaloosa, September 9-October 2, 2011, in the Bean-Brown Theatre on Shelton State's Martin Campus. Due to anticipated demand, "Bear Country" will run for four (4) weeks, rather than Theatre Tuscaloosa's usual two-week run.
"Bear Country" is the inspiring tale of the life and career of the football coach who won the most college national championships in history: Paul W. "Bear" Bryant. It was originally presented at the Alabama Shakespeare Festival (ASF) as part of the Southern Writer's Project, and it has since been presented in Birmingham, Alabama, and Columbus, Georgia. This is the first time that it has been presented in the heart of Bear Country: Tuscaloosa, Alabama.
"Bryant once said 'tough times don't last, but tough people do.' After the April 27th tornado, our community can use a dose of the Bear's optimism," said Executive Producer Tina Turley. "And it's also exciting that we are doing 'Bear Country' during football season when once again the Tide is highly ranked in the pre-season polls."
Theatre Tuscaloosa has hired professional actor Rodney Clark to both reprise his role as Coach Bryant and to direct the play. Clark originated the role at ASF and has played Coach Bryant in every production since.
"When Tina [Turley] asked me to be part of the Tuscaloosa production of 'Bear Country,' I had to say yes," said Clark. "As an Alabama native and a graduate of The University of Alabama, I really did feel 'mama callin.' I was especially excited about having the chance to direct this play, which has become such a big part of my life."
Although it only premiered two years ago in 2009, "Bear Country" has already attracted a great deal of attention and praise from many of Coach Bryant's former players. Among them is Coach Mal Moore, who saw the play when it was in Montgomery.
"I am proud that Theatre Tuscaloosa is producing the play 'Bear Country,' which truly depicts the greatness of Coach Bryant," said Moore. "It brought back so many memories and reminded me again of what an inspiration and impact Coach Bryant made on my life and the lives of so many others. It is not to be missed."
In addition to Rodney Clark, the cast of "Bear Country" includes Gary Wise, Joel Ingram, and Willie Williams. The production team includes Rodney Clark (director), Katherine Ross (scenic designer), Jeanette Waterman (costume designer), Erin C. Hisey (lighting designer), Jerrell Bowden (sound designer), and Charles Prosser (stage manager).
A series of free "Locker Room Talks" will be presented in conjunction with the production. On Saturday, September 10, playwright Michael Vigilant will share the story of how "Bear Country" was written with audiences in the Alabama Power Recital Hall (adjacent to the Bean-Brown Theatre) from 6:30 pm-7:15 pm. On Thursday, September 15, Bryant Museum Director Kenneth Gaddy will give an in-depth look at the factual history of Paul W. "Bear" Bryant in the Alabama Power Recital Hall from 6:30 pm-7:15 pm. On Friday, September 16, audience members will be invited to stay after the 7:30 pm performance to have a post-show discussion with the cast in the Bean-Brown Theatre.
Additionally, the Bryant Museum will be presenting a free, special exhibit in the National Bank of Commerce Gallery, which is across from the Bean-Brown Theatre at Shelton State's Martin Campus. The exhibit will be open one hour prior to each performance for audience members to view.
As part of Theatre Tuscaloosa's ongoing commitment to tornado relief, $1.00 of all individual tickets (non-subscription) sold for "Bear Country" will be donated to the Give+Tuscaloosa Fund.
Theatre Tuscaloosa's 2011-12 season is presented in cooperation with Shelton State Community College and is sponsored by Alabama One Credit Union, Jamison Money Farmer, PC, al.com, Citadel Broadcasting Corporation, and the City of Tuscaloosa. "Bear Country" is sponsored by Ameriprise, Afflink, and 95.3 FM The Bear Country. Additional sponsorships include Mercedes-Benz and D. Harkey Design.
Theatre Tuscaloosa is a not-for-profit community theatre located on the Martin Campus of Shelton State Community College. Theatre Tuscaloosa has been enriching the greater Tuscaloosa community since 1972 through quality theatrical productions and educational outreach.
"Bear Country" will be presented September 9-October 2 in the Bean-Brown Theatre on Shelton State Community College's Martin Campus (9500 Old Greensboro Road). Throughout the run, Saturday performance times will be set after Alabama football game times are announced to allow audience members to do both. Performances taking place between September 9 and 18 will be at 7:30 pm Thursdays and Fridays and at 2pm on Wednesday and Sundays. Performances between September 20 and October 2 will be Tuesdays through Fridays at 7:30 pm and Sundays at 2 pm. All proceeds of a pay-what-you-can final dress rehearsal on Thursday, September 8, at 7:30 pm, will benefit the Charlie Dennis Memorial Scholarship Fund. Tickets to the regular performances are $22 for adults, $18 for seniors (60+), and $14 for students and children. Special rates are available for groups of 10 or more. Tickets can be purchased online at http://www.theatretusc.com or by phone at 205.391.2277.
###