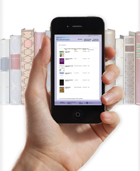 Consumers are quickly embracing eBooks, but there are additional challenges for schools. Bookstream makes it easy and trackable for teachers and administrators to deliver accessible 'digital' books.
Volo, IL (PRWEB) September 06, 2011
This school year, educators will have a new option to deliver their books. In addition to handing out textbooks in class, they will deliver eBooks through the cloud to students' iPads, smartphones, and laptops with a new online service called Bookstream.
Bookstream, developed by Don Johnston Incorporated, makes it easy for educators to hop on the Internet, upload eBooks and share them with students for anytime reading. It was designed to help educators comply with IDEA 2004 (Individuals with Disabilities Education Act) that require schools to deliver core curriculum in accessible formats to support students with disabilities.
"We work with assistive technology specialists who drive hundreds of miles each week to deliver eBooks on flash drives," said Ben Johnston, Director of Marketing. "It's ironic that eBooks are delivered by car, but as one special educator explained, there aren't many alternatives—book files are often too big and unwieldy to email or download. She was also concerned about violating copyright laws and wanted an easier way to manage digital content. She inspired us to do something about it, and now we have with Bookstream."
For districts that are just beginning to build an accessible curriculum, Bookstream includes access to thousands of eBooks and fully supports Bookshare's more than 110,000+ digital files. It will read any book in ePub format without DRM restrictions. Teachers can also upload and share their own quizzes and worksheets with students.
Consumers are quickly embracing eBooks, but there are additional challenges for school districts to do the same," said Kevin Johnston, Director of Product Design. "For schools, eBooks come with different rights for different students, the books need to be accessible on school computers and on personal devices, and some electronic textbooks can be over two gigabytes each! With Bookstream, we solve these challenges for educators, making the whole process easier. We also built in tracking tools so educators can see how much time their students spend reading and which books they read."
eBooks read through Bookstream are 508 compliant as outlined in the Federal Rehabilitation Act. They are accessible to any assistive technology with a web browser such as Don Johnston's Read:OutLoud text reader or the JAWS screen reader for individuals with visual impairments. Bookstream embeds text-to-speech that can be streamed on any Mac or Windows computer.
"Cloud computing has the potential to create the infrastructure our schools need to keep up with the digital world," said Debbie Fogg Ed.S., CCC/SLP, ATP at Naperville School District #203, IL, one of the first school districts to purchase Bookstream. "We're excited to have a platform to deliver electronic text to students' personal and district-owned laptops and mobile devices. We hope to see an increase in academic performance as a result of the anytime reading access."
From now until December 30, 2011, U.S. schools can take advantage of introductory pricing on Bookstream that gives school districts two years of access for the price of one. First year costs are $1749 with an annual maintenance fee of $529 per site. Districts may also qualify for discounts depending on number of sites they purchase.
"Educators can set up their accessible library and deliver e-Books in less than 30 minutes," adds Ben Johnston. "Our technology is similar to Amazon's Cloud Drive and Apple's iCloud, but we're choosing to focus on education; that's what we're passionate about. Five years ago, it was inconceivable that schools could deliver an accessible curriculum beyond a few students per school, but now through the new cloud technology and digital books, Bookstream makes it all possible and cost-effective."
Resource Links:
Learn about Bookstream, Accessible Instructional Materials and all of Don Johnston's reading products.
About Don Johnston Incorporated
Don Johnston (http://www.donjohnston.com) develops accessible reading and writing technologies to support K-12 and postsecondary students with cognitive, physical, and learning disabilities. Since 1980, the special education company has partnered with literacy experts, AT specialists, SLPs, OTs, special education teachers, university researchers and DSS coordinators to improve access to learning and to increase reading and writing independence. Tens of thousands of students with dyslexia, autism, dysgraphia, down-syndrome and diverse learning challenges use our software and hardware devices to accommodate their learning needs in schools, the workforce and at home. Find us on Twitter and Facebook.
###