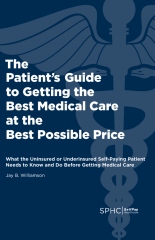 With little to suggest that we can expect a simple, easy-to-use and inexpensive healthcare system of the future, we all need to be equipped to deal with its uncertainty and confusion.
Baltimore, MD (PRWEB) September 13, 2011
How can the uninsured obtain medical care at minimal financial expense? Patient advocate Jay B. Williamson has published a first-of-its-kind guidebook that directly addresses the plight of America's fifty million uninsured individuals. Titled "The Patient's Guide to Getting the Best Medical Care at the Best Possible Price: What the Uninsured or Under insured Self-Paying Patient Needs to Know and Do Before Getting Medical Care" (ISBN 9781453706596), it systematically communicates how the uninsured can obtain quality care without being excessively and unreasonably overcharged. With key health insurance relief provisions of the Affordable Care Act not taking effect until 2014, this guidebook serves as an expert resource for those in need of clear guidance in the face of a nontransparent and unpredictably expensive healthcare system.
"The uninsured are regularly charged two to four times the amounts paid by private insurers and government programs for the same care," says Williamson. "This guidebook provides an insider perspective on how to manage this inequitable aspect of healthcare. It emphasizes proactivity instead of letting the system simply dictate its terms to the unknowing patient."
Inexpensively priced at $14.95, this valuable, money saving guidebook was developed from pro-bono advocacy work on behalf of the uninsured plus first-hand interviews with physicians and hospital administrators. It details why the uninsured are regularly overcharged for medical care, the dangers associated with medical debt and how to effectively obtain inpatient or outpatient care at minimal financial expense. Written in a direct style, it empowers its reader with the insider knowledge and tools needed when medical care is necessary. Published in both paperback and Kindle-ready formats, it can now be purchased through Amazon.com or myselfpayhealthcare.com, the guidebook's companion website.
About the Author:
Jay B. Williamson is the founder on Self-Pay Healthcare, an organization dedicated to developing tools to navigate the complexities of healthcare and obtain medical services at minimal financial expense. He has appeared on Retirement Living TV. For more information on being uninsured or under insured and needing medical care, please visit myselfpayhealthcare.com. To arrange an interview or obtain a review copy, please call the author directly at 202-236-8588.
###