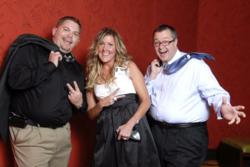 The effectiveness of this product was a tremendous success in both terms of the excitement generated and the ROI it produced.

Brandon A.Dolci CMP
7x24 Exchange
San Antonio, TX (PRWEB) September 06, 2011
Convention Photography season is in full swing and Professional Images Photography has announced a new way of branding your party. With Digital photography and wireless connection, Candid photos are uploaded to a private website so guests can now retrieve the images from cell phones or at the desk for Facebook, Twitter or any social media application.
Today's convention attendee craves new products and during a trade-show recently Professional Images Photography created a buzz with a new twist to getting Candid Photos. As attendees enter the hall for the Trade-Show reception they are photographed and offered a card to get their images online to a private website that has their photos.
Brandon A. Dolci, CMP and Director of Conferences for 7x24 Exchange commented the effectiveness of this product was a tremendous success in both terms of the excitement generated and the ROI it produced. The private website is created to have all the logos of the sponsors of the reception with a welcome address and a portal taking them to all the sponsors websites. Each guest can download any or all the photos with no additional charge. Professional Images Photography experience with the Convention Photography industry dates back to 1987 and traveling the Nation, Canada and Mexico has provided valuable experience and knowledge of the Industry needs in terms of Photography and Event needs for photography.
Having a website that guests can go to and retrieve images at no cost to them creates a following and re brands the Convention that was attended, Brands the sponsors that paid for the service which creates other companies that previously did not sponsor an event to come forward for the following year.
Today's economy requires aggressive new ideas to retain attendees and knowing that some groups numbers go up and down each year, unique products like Professional Images Photography is a hit and only can be expected to get more refined.
About Us: Professional Images Photography located in San Antonio, TX. A leader in Convention, Corporate and Event Photography since 1987. Brandon A. Dolci, CMP is the Director of Conferences for 7x24 Exchange and NYSAE based in New York City.
###